Why You Need A WordPress SEO Plugin?
Before we go to details on Rank Math Vs. Yoast, Let's understand why is WordPress useful for SEO? If you are utilizing an SEO Plugin for your blogs like Yoast or Rank Math, the SEO becomes a breeze, and it is going to spare you a great deal of your valuable time.
A checklist is needed to validate SEO optimization. That same SEO checklist is essential to us because we depend on it to ensure that the article is optimized to target different keywords and parameters suited to our needs.
The SEO Plugins are so good at coming up with great checklists for any items we have, and we can easily ensure that those same items are measured and accordingly fixed to our heart's content. Can you imagine being a WordPress blogger who doesn't use SEO Plugins? I certainly can't.
What Should You Look for in An SEO Plugin, Anyway?
When talking about SEO plugins, the two main user types are:
-Newbies who are looking for a quick and straightforward way to make their site stand out for Google. If you can relate to this, then kudos to you! You've made an excellent choice.
-Professionals who are looking for more advanced settings like the automatic formating of meta-information, custom field variables, as well as many other things I'm sure you don't want to read right now.
A renowned SEO plugin ought to be able to do both. However, some tend to focus more on one individual group. Yoast has an amiable startup guide, simple notifications, while other SEO plugins out there are just brutal.
That's why when choosing your SEO plugin, try going with the one that has an approach to SEO that is better suited for your needs.
Moreover, if you run WooCommerce or anything else with custom post types, find a plugin that can support all of that.
Now, I believe it's time to move on to the most significant discussion – What is the best WordPress SEO plugin- RankMath Vs. Yoast SEO.
SEO Yoast and Rank Math are the two plugins that are currently ruling the WordPress SEO world. Both being the big SEO players have their own fan base.
SEO Yoast being in the field for a long time with 5+ million users is a solid SEO plugin while Rank Math as a newcomer has already made its wow impressions among WordPress users.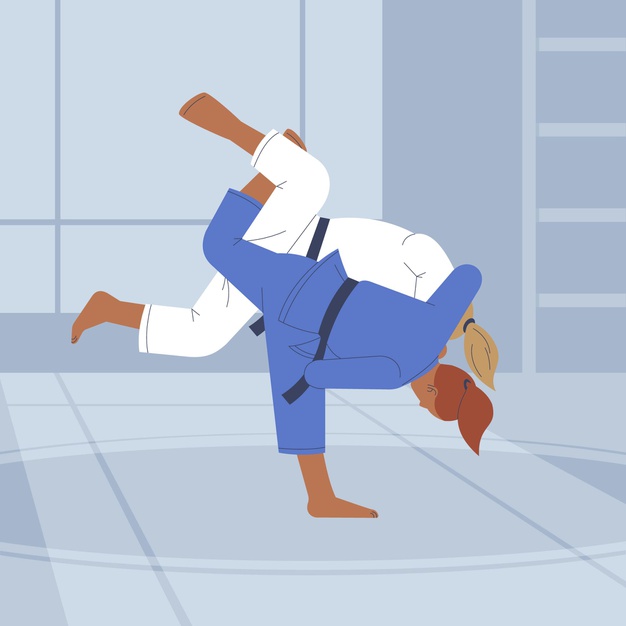 Both Yoast and Rank Math does the work of optimizing WordPress sites to make them rank better in search engines like Google. Let's see what both of these SEO plugins can do in general.
Optimize pages and posts
Improve the site appears in the search results
Improve and optimize site metadata
Optimize sitemap, canonical element, and access
Instruct the search engines on which content to crawl.
Optimize your social sharing options
Improve website speed and user experience
What is the Rank Math SEO plugin?
In the world of WordPress plugins intended for SEO, Yoast is the king, and no king rules forever. Coming for its crown is Rank Math, a new and free SEO plugin presented by MyThemeShop.
The people from MyThemeShop have poured so much love and effort into this plugin, that is without a doubt. It was easy for us to see why this plugin is as good as it is and how it got its praise.
You can see the plugin's page if you need more information right here, a plugin that's well cataloged and already proven itself.
The best thing about RankMath is its ability to join up to five or more modules while still maintaining speed and leniency. Local SEO plugin, XML Sitemaps, Schema markup, and Redirects plugin become abundant if you decide to use Rank Math.
Rank Math is a new SEO plugin but is already very popular in the way it is revolutionizing the WordPress SEO. With already tons of five-star reviews and great mentions around the web, Rank Math has managed to get into the eyes of big groups or WordPress users, including top digital marketers and SEO experts.
Pros of Rank Math 👍
The best part of Rank Math that I like is the interface. It has a clean and straightforward user interface making it easy to use with all kinds of editors and page builders. The features in the plugin are easy to understand, and yes, all of them are 100% FREE. Rank Math has excellent customer support. Some of the best features of Rank Math includes:
Redirection manager
Easy to do Elementor SEO
Use of multiple Focus Keywords
Local SEO features
Snippet Editor
Multiple Schema choice
Role Manager
Search Console in Dashboard
More logical and SEO scoring method
Title's Readability Analysis
404 Management
Canonical URL feature
Easy One-click Data Import From Yoast
Cons of Rank Math 👎
Using Rank Math can be a bit overwhelming to newbies as there are setting options in the plugin.
SEO Yoast
With more than five million installations, Yoast has been there for over a decade. You can say until Rank Math got down to business, SEO Yoast was the single ruling SEO plugin.
With its official headquarter in the Netherland Yoast is a team of 80 plus professionals who actively contribute to the WordPress Community.
Pros of SEO Yoast Plugin 👍
SEO Yoast is convenient in detecting site errors and recommending possible solutions. It perfectly guides you to solve SEO errors in your pages and posts.
It identifies different technical issues and helps you fix them. Yoast provides excellent insight on link optimization, content filter, redirections, and more.
Cons of SEO Yoast Plugin👎
The main pros of Yoast are that the advanced features are restricted in the free version. The free version gives you all the necessary optimization options, but the advanced premium features can add to better site optimization.
The user interface of the Yoast is not very appealing. If you are a page builder user, you should have already got into bang with its hostile interface. Also, the support from the Yoast team cannot be highly appreciated.
Yoast Free Vs Yoast Premium
Rank Math vs.Yoast: A Detailed Comparison
Ease of use ( The User Interface)
Keyword allocation:
Content Optimization
Features and performance
Indexing and sitemap
User Interface Comparison: Rank Math Vs. Yoast
Be it an SEO plugin, or an email automation tool, a clean and simple user interface has always been in demand. The clean interface makes it easy for all levels of users. The complex interface makes it hard for non-technical users to use the tool.
Rank Math has a clean and easy to use interface. It comes with two different modes for the users. Easy Mode and Advanced Mode.
With the Easy Mode, you don't need to work on the setting, and If you want to take Pro control over your WordPress SEO, the Advanced Mode comes into play.
The user interface of Rank Math is pretty appealing and easy to understand for all types of users. It is not that difficult to find out anything you are looking for.
SEO Yoast comes with an " all in one" type interface.
The user interface of SEO is robust in the sense that it is focused more on functionality. However, the design and the look may not please everyone as it seems to be a bit more outdated.
Installation And Setup Comparison: Rank Math Vs. Yoast
The ease of setting up any tool can significantly impact how the users are going to make a first impression of the tool.
With five easy steps setup wizard, Rank math has a smooth setup process. Upon installation, RankMath pops up the setup wizard automatically. The setup process begins by asking for your email details. However, you can skip and continue the setup process.
Yoast SEO comes with a setup wizard that allows you to configure basic settings such as the site and organization type, author options, visibility setting, and more.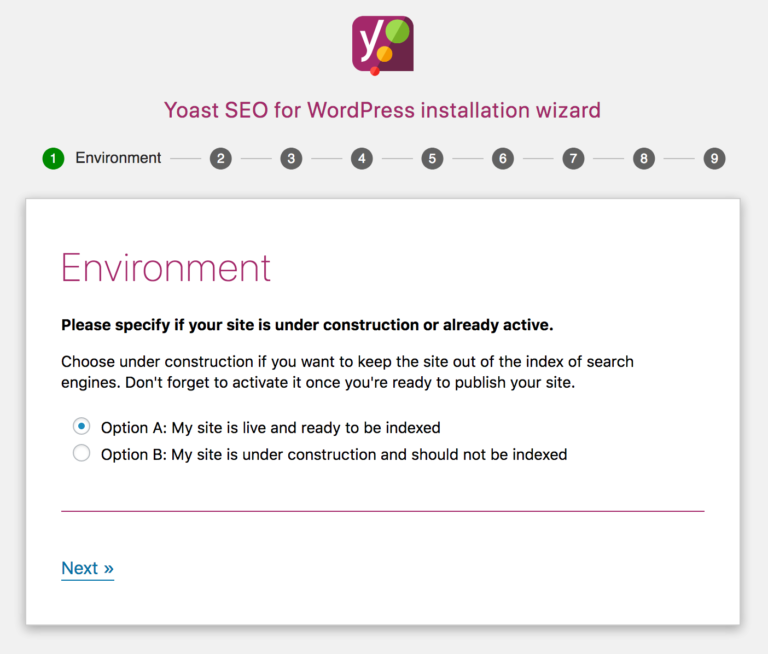 Keyword Setup Comparison: Rank Math Vs. Yoast
With Rank Math, you can assign up to 5 keywords on a page or post while Yoast, in the free version, lets you assign only a single keyword. With the Premium version in Yoast, you can assign five keywords.
Other features like title, meta description, slug, and Google search preview work almost similar in both of them.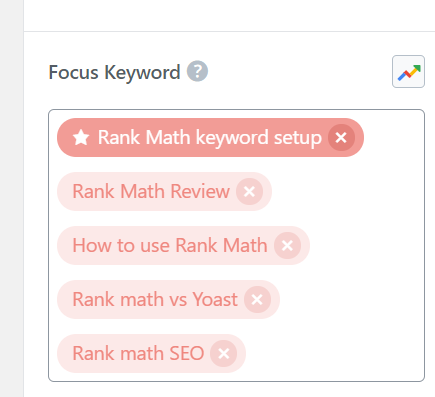 Content Optimization Comparison: Rank Math Vs. Yoast
Both the plugins give you an overview of your content optimization. You can see to what level your post or page is optimized. In this case, both the plugins have different methods of grading the optimization score.
Rank Math shows the optimization score in number that is from 0-100. The scoreboard color turns green after you reach 80, meaning that your content is optimized for good.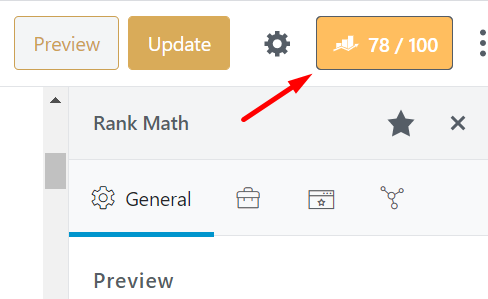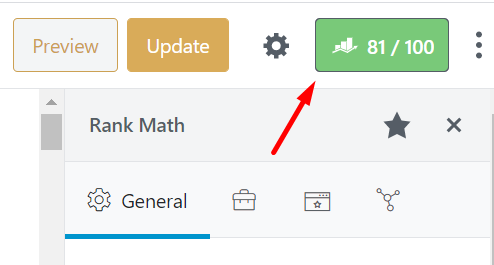 The same thing in Yoast is done differently. Yoast shows your optimization score using the color circles. The red circle represents the least optimization score, and the green represents the best optimization score.
In this case, the Rank Math system of grading the content optimization looks more logical. The Yoast breaks the score into three different grades, while Rank Math does this into 100 parts.
Performance Comparison: Rank Math Vs. Yoast
Rank Math asserts that its code is efficient and precise and that makes it load faster without slowing down your website.
When it comes to performing the best, both the SEO plugins have their own scope of performance. You will not get an instant boom in your SEO score by replacing Yoast with Rank Math.
Obviously, Rank Math has more features than Yoast, but merely having more features cannot guarantee better performance.
There has been a lot of buzz around Rank Math being better than Yoast. However, unless you test each theme based on comparative metrics and content, you never know which outranks the other.
Schema Markup Comparison: Rank Math Vs. Yoast
Both plugins offer different types of schema markup. Rank Math comes with local SEO optimize pack where as Yoast integrates "how-to" and "FAQ" schema on pages and posts.
It is up to you to decide what feature is more essential for your website or business.
| | | |
| --- | --- | --- |
| Schema Type | SEO Yoast | Rank Math |
| Rich Snippets | No | Yes |
| FAQ Schema | Yes | No |
| How-To Schema | Yes | No |
| Knowledge Graph | Yes | Yes |
| Local SEO Markup | Premium | Yes |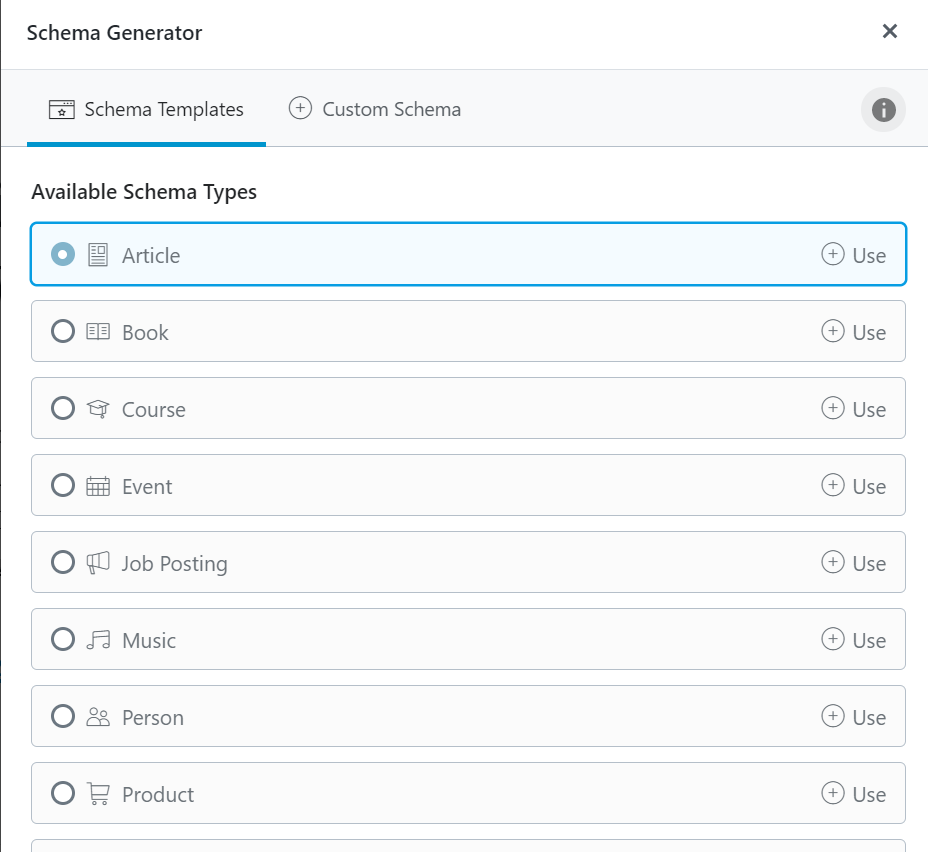 Redirection And 404 Monitor Comparison: Rank Math Vs. Yoast
Rank Math does the clean sweep here. Redirection is one of the most important features when it comes to SEO, and Rank Math beats Yoast by offering redirection features for free, which is only available in Yoast Premium.
You can keep an eye on a 404 error from a section in Rank Math for free without having to visit your search console. In Yoast, this is only possible by using a third-party plugin.
Robert.txt And htaccess Comparison: Rank Math Vs. Yoast
Robert.txt and htaccess options are only available in Rank Math. Yoast falls back in this feature.

XML Sitemap Comparison: Rank Math Vs. Yoast
I don't see a big difference in XML sitemap integration by both of them. But still, customizing the sitemap should be more easier with Rank Math.
Elementor SEO: Rank Math Vs. Yoast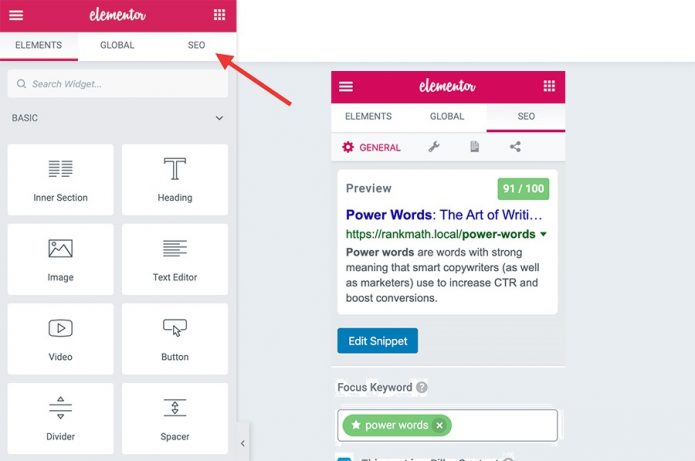 No doubt, Elementor is the most widely used page builder on WordPress. While Working with SEO on Elementor sites you might have noticed that Yoast does not come handy because Yoast doesn't let you do SEO work on the element or interface. you need to keep on moving back and forth.
But, Rank Math comes with superb integration with Elementor Plugin. You can edit your meta snippet accordingly, and configure the schema markup — all from within Elementor's editing screen.
Support And Pricing: Rank Math Vs. Yoast
Rank Math is a free plugin with excellent features. The Premium version is coming soon with ultra extended features and functionalities. You get all the features in the Free version of Rank Math that SEO Yoast provides you by charging $89/year.
Rank Math is built on a strong customer support foundation. They have a proactive support team who and support forum to answer your query anytime, anywhere.
Yoast only has premium level support for the premium users.
Wrap Up: Rank Math vs Yoast
It is good to see how Rank Math is revolutionizing the WordPress SEO sphere and quickly picking up the graph. On the flip side, Yoast being an acclaimed SEO player, cannot be undermined. Both of them are here for good.
However, the extensive features of Rank Math give an excellent reason to go for it. You can propel your SEO game to the next level with Rank Math without paying a dollar. I personally prefer Rank Math for its ease of use and overall features.
Why go for Rank Math?
Rank Math is 100% free.
Rank Math has all the features that are available in Yoast Premium
Light coded plugin and better performance
Superb customer support and a great community
Rapidly growing
Why be with Yoast?
Yoast has been in the industry for ten plus years and trusted plugin with 5 million-plus installations.
Yoast makes it easy to optimize content
Yoast includes FAQ and How-To schema that helps you get more space on search results.
Detailed documentation and knowledgebase
Rank Math Vs. Yoast SEO, Who Wins?
At times, Yoast comes up on top, and every now and then, Rank Math does. Nobody seems to be winning as of yet. Rank Math is unquestionably giving us lots of customization options for a free plugin. Yoast, on the other hand, has fewer options, and nothing is free of charge.
⇒ On the subject of functionality, Rank Math is the winner by far. That is also relative, though, as it is dependant on your need as a Role Manager. I found no use for this function, but maybe you'll need it.
⇒On the subject of simplicity and easier optimization, Yoast is the clear winner. It's just effortless to use.
Earlier on, Rank Math had issues with stability. The team behind Rank Math worked hard on fixing all the bugs and problems as soon as they could. It really does look more stable now. Go ahead and utilize it without having to worry about anything. The WordPress SEO plugin by Yoast had no problem of the sort.
Since then, Rank Math has made many changes and started adopting many updates quickly to make it simpler for everyone to use. I stopped using it, but now I have found myself coming back to it again.
Anyway, the point here is, with Rank Math offering all these extra features for us to use compared to the free Yoast SEO plugin, isn't it the obvious choice? If you are a subscriber to the Yoast SEO plugin's premium version, you are already enjoying these features nevertheless.
For beginners, the SEO plugin from Rank Math seems like the obvious answer. Like we mentioned before, it has all these completely free features. After the inclusion of Rank Math as my SEO plugin, I immediately uninstalled five other different plugins that I had.
You must know by now that the fewer plugins you have on WordPress, the faster your site will run!
By installing Rank Math myself, I solved two problems in one fell swoop.
I am certainly not implying that you should uninstall the Yoast SEO Plugin and replace it with the Rank Math one. Instead, try installing Rank Math SEO plugin on another site and give it a go. Who knows, maybe you will find it to be better suited for you than Yoast SEO. And if that is the case, don't hesitate to switch to the Rank Math SEO plugin.
Frequently Asked Questions
➤ Can I trust Rank Math?
The current version of Yoast is totally safe. Though some vulnerabilities in the earlier versions but the latest version is there with a big improvement. Top SEO veteran and bloggers like Matthew Woodward and Ryan Robinson and Matt Digitty have recommended Rank Math.
➤ Is it worth to buy Yoast Premium?
To be honest, I don't see any reason to spend extra $89/year. Rank Math gives you option to use multiple focus keyword and for redirection there are other free plugins available.
➤ Does Rank Math work with page builders?
Yes, Rank Math works absolutely perfectly with page builders like Elementor and WP Bakery.
Which Plugin are you using for your WordPress website? Are you satisfied with the one you use?
Do you share my views on the Rank Math Vs. Yoast? If you do not, don't hesitate to leave a comment below, express your thoughts and your personal experiences. Talking about this subject is always good because, in the end, we are all looking for the best WordPress SEO plugin for our own blogs and sites.