Are you thinking of starting an eCommerce business sometime soon? If yes, this could be the most exciting and wise decision ever. With the boom in online shopping behavior in the few last years, eCommerce is taking off the ground in a very speedy manner. And yes, You should not be left behind for any reason.
Starting an online business is easy but can turn nasty if not handled the correct way. It requires lots of courage, dedication, and huge planning. Well, when it comes to starting an e-commerce business, several things are recalling in your mind, isn't it? Sometimes you fear to tackle a loss of the business. And at some moments, you imagine yourself as rich as Jeff Bezos.
With every single passing day, the use of the internet is growing more and more. And this happens because of its effective response.
Suppose a person visits a store and buys some products. Also, some buy it through an online store. So who do you think to get a quick response without wasting any time? It is obvious, through online stores one can make their shopping easily. They neither have to waste their time on the crowded road and store. Nor they need to wait in a queue to get their goods.
Now looking through businessmen's perspective, if they start an e-commerce business, they do not have to pay for room rents or bills. They can easily work from their home at any time. With the growing popularity of the Internet and technology, it has become easier to buy and sell online.
An online store is more attractive and eye-catching than a normal store. It will showcase each of your products in an elegant way. And the best part is everyone can reach your store and there is no limitation until you consider. If you start your e-commerce business, you can sell your products even from your laptops, tablets, and mobile phones.
To make your ideas clearer, we have short-listed some of the important reasons to start an e-commerce business. Let's have a look:
Reasons To Start An E-commerce Business
1. Work From Anywhere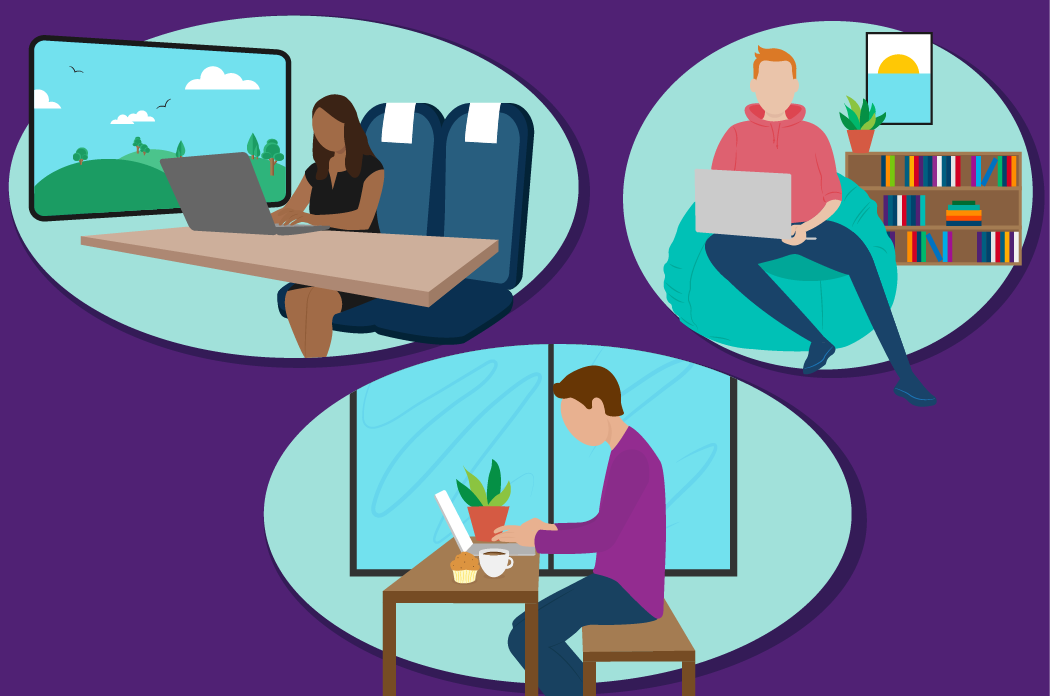 The best of starting your E-commerce Business is, you can work from anywhere at any time. You need not settle any office neither needs to fix working time. Either you are at your home, office, or chilling at a beach. Just open your mobile or laptop and keep updating yourself about your business.
E-Commerce business provides you flexible time to work from anywhere you want like a coffee shop, library, home, and basically any other place with a Wi-Fi connection. Sometimes people feel bored working in the same as a usual place looking as usual faces.
To make your mind creative, you need to explore new places and meet new faces. It has two benefits, one side you will get better refreshment. And other things you can polish your mind to get creative ideas for your business.
Moreover, you need not be a developer or a Ph.D. holder to start your e-commerce business. anyone can start it if they have full dedication to their works. To get clearer, let see a statement by Shopify entrepreneur and globetrotter DJ Jammison.
He say:
"I became an entrepreneur so I could take back my time freedom, financial freedom, and travel the world. I was forced to drop out of college because I could no longer afford it & then got a job as a custodian. That's what motivated me. I started my journey in 2013 and I never looked back. I began with Affiliate Marketing and then transitioned to E-commerce with Shopify & Oberlo in late 2015. Fast forward to 2019, I run my online business with just a laptop while traveling the world."
2. Thriving Web Population
As per the statistic, last year active web members were around 4.388 billion. This is really huge, isn't it? And all these members are involved in one or more internet connections. This number is increasing day by day, it means you can easily get thousands of audience online.
Among those all, if you get only a few percentages of people on your e-commerce website, you will get more profits. And you can create a fresh new market for new e-commerce ventures. I think this is what anyone requires for an online store.
3. Easy To Start your e-Commerce Business
If you want to start your E-commerce business, then let me tell you that it is one of the easiest forms of business. You are totally flexible to start such a business. No matter whether it's your home, place to hang out, or anywhere else, you can run your e-commerce business very well.
For this, you neither have to be a developer or need to make a big investment. A layman with logical thinking and strategies can start it with very low investment. Moreover, you will require very few amounts of time to buy or sell different products online. Let me introduce you to some basic steps with which you can easily start your online business.
Steps:
Think about better marketing strategy
Get perfect product niche
Craft effective brand name for your store
Create a powerful and elegant design for your online store
Design a suitable marketing plan
Make a promotion for your business consistently
4. e-Commerce Business Provides Fastest Transactions
Suppose a person has to buy any product which is available at both online stores and also at a physical store. At that time which will be the better option? Whether you should travel miles, stand in a queue, and then return home. Or just visit a store, make your shopping, and get the product at your home. I am sure, you all will prefer the second option of online shopping, isn't it? This is not only the quicker option but also saves lots of your time and energy.
Sometimes, we visit a store, and unluckily the store is closed. This is the worst situation, after all, you have traveled a long distance to get a product. But this will not happen if you make your purchases online. Once you order your product, you will get it straight to the door. Neither you need to wait for the store to open, nor for an employee to take your order. The best part it will not harm or alter your regular routine.
5. Higher Consumption of Online Content
If you start your e-commerce business, it is obvious you will add power and elegant content to describe your products. Whether it is chat messaging, social media campaigns, or finding the best purchases online, you can attract your visitors with powerful content.
If you create your online content with full of information, advice, explanations, recommendations, and insights, it will attract your visitor's attention.
If you are new to this and wondering about how to get traffic on your site, the best thing you can do is providing your website with the best and powerful content.
This will be a great help for you, your eye-catching online content can target a huge audience. And within a short period, you can easily get huge popularity and the ability to make a dominating brand presence.
So describe your product with powerful content which includes all necessary details searched by users. The more you get reviews, the more your site gets popularity.
6. Unmatched Flexibility and Freedom
Now, no barrier to your business as an online platform comes with huge flexibility. For the sustainability of any business, flexibility, and freedom plays an important role. And if you are about to start your e-commerce business, you will all the freedoms required to get better traffic.
In this, you are not bounded to work from a single fixed place, do it from your comfort zone. Talking about the flexibility you can sell and buy any products anytime and anywhere. It is the best thing that attracts your users.
And this great flexibility comes with, the super-fast connectivity, real-time technologies, and advanced communication systems. You can also adjust your online business offline, this will be a great advantage for your e-commerce business.
7. Able to make Big Brand without Big Operation
Another reason to start your e-commerce business is, without conducting a big operation, you can make your brand big and powerful. Only with the merits of your content and unique products, you are able to take your business to the next level.
If your e-commerce website contains eye-catching content and products, then even a small startup company can establish a powerful image in the market. So to make your brand successful, not only the investment matters, but some creative ideas with dedication will make it up.
8. Sharpen Your Skills Online
When a person starts their first e-commerce business, he/she is not totally trained about the circumstances. By every passing day, people are improving themselves and trying to make a better online presence.
In the beginning, they are at a low level of skills and expertise. Your growth totally depends on your dedication and business interest. Sometimes you need to follow some e-learning websites and platforms like Udemy, edX, and others.
With all your efforts, you are able to sharpen your online skills which will be very fruitful for the growth of your business.
9. Start your e-Commerce Business to get Faster and Secure Online Payments
We all know digital payments are the most secured payments which always stay on the internet. And you can get any time anywhere, you just need the internet and mobile or laptop. When you start your e-commerce business, it is obvious all the payments will be made online, isn't it?
There are a number of payment gateways that offer secured payments online. To make your online payments, you can prefer wallet apps, net banking, credit, and debit cards, and services like PayPal, Google Pay, Apple Pay, PayTM, and others. And believe me, all of these methods are secured and provides a quick response.
To attract your customer, you can also keep Cash on Delivery option.
10. Increase your earning 24/7 with e-Commerce Business
There is no limitation on online business. You can earn 24/7 by selling your products online. Online business has no opening and closing hours like those of physical stores.
Online store is very effective for the busy person who cannot arrange time to visit physical store. Whether its day or night, working days or holidays, you can earn every time through an ecommerce business.
11. Able to establish your Businesses Globally
A physical store attracts the people near its town or cities. Such stores are limited within a few areas. But if you start your e-commerce business, you can attract huge traffic. People not only from your city, but you will get an audience worldwide.
People need not travel anymore to get any product, they can order from their hometown, and get it to their door. Global audience means, global popularity. Now you are not only known by people near your areas but also popularity and audience come from several countries. So there will be no geographical and linguistic tango barriers. Your brand is well-known in the entire world.
Conclusion
After going through the above reasons, I think all of your queries might be answered. Starting an online store provides you more opportunities along will impressive earning. So, if you are still thinking to start your e-commerce business, then go for it without thinking twice. With this, you will get an audience from the entire world and with huge traffic, you can make your brand popular.
I hope you get this article helpful to and you get enough ideas to start your e-commerce business. If you are still in confusion or have any types of queries, feel free to comment on us. We make sure all of your confusions are cleared very soon. Keep supporting us and follow us to get more interesting articles.
You may also want to read: