Are you looking to set up a new WordPress website but haven't yet decided which hosting can be on the top of the line for your website? Or, even if you already have one and planning to upgrade your hosting, you might want to learn more about the different WordPress hosting providers.
Worry not! We got you covered. We are here with the go-to resource on WordPress Hosting to help you decide which hosting can better fit your needs.
With too many to count, not all hosting services are equally worthy. Before you buy one of them, we recommend you go thoroughly through this post and know the basics of WordPress Hosting to make an informed purchase and not ruin your hard-earned dollars. In this post, you will learn about
What is web hosting
why is web hosting necessary
what are the different types of hosting for WordPress
What to look for when choosing the best hosting provider?
What are the top best 10 WordPress hosting providers
What Is Web Hosting?
Web hosting is a service that lets your run your website or any web application on the web. Web hosting provides you with all the features and technologies that make your website viewed on the internet.
Why Is Web Hosting Necessary
Before you can make your website run on the internet, you will need a hosting service.
What actually this hosting has to do with your website?
Well, When you host your website with a hosting provider, they will give you some space on their server so that you can store your website's files and data. Once your website details are on the server, people can access it from anywhere at any time.
What Are The Types of WordPress Hosting?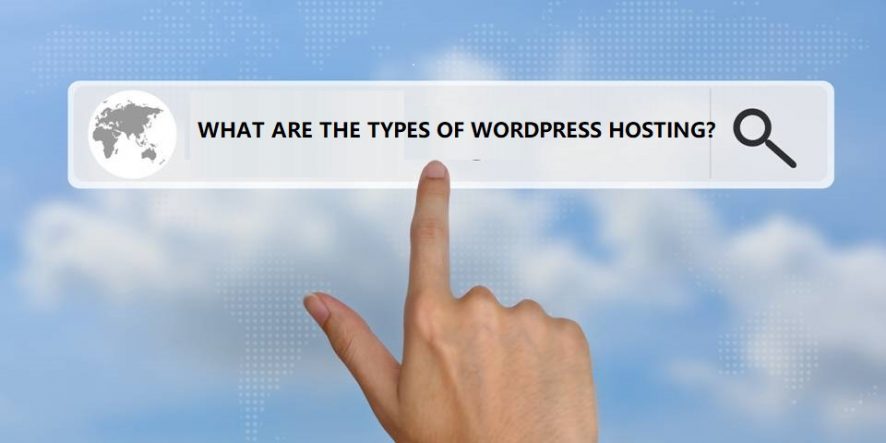 Getting to know the types of hosting will help you decide what kind of hosting your website needs. There are different kinds of hosting for WordPress, and one single hosting might not fit all types of websites.
Choosing the suitable hosting out of many can often be a daunting task. Understanding different types of hosting and knowing how they work to simplify your search process. Let's get into this.
Shared WordPress Hosting
Shared web hosting is the most popular and economical hosting plan. One server hosts hundreds of websites like yours. As a result, all the websites will have to share the same server's space and resources.
Why use shared hosting
Affordable and economical to get started with
Suitable for love traffic sites
Easy to setup
Why avoid shared hosting
You only get what you pay for. You can' expect any top-level performance
Resources are shared, and you get a limited portion.
Low-quality support
Less secure and vulnerable to security threats
Cloud Hosting
Cloud hosting is a web hosting technology in which your files are stored across multiple servers, and your resources can be fetched from different servers in different places.
How is this good for you?
In a single server hosting, if the server is down for some reason, your site is down. But in the cloud hosting, if a server goes down, other servers in the network for you. Isn't this something scalable?
Cloud hosting is a "pay as you go" model of hosting where you get to use the space in the server according to your need and only pay for what you use.
Why use cloud hosting
Flexible and scalable hosting
Only pay for what you use
Automated solution
Better performance due to multiple server involvement
Why avoid cloud hosting
More expensive than other third-party hosting providers
Has more security risks unless you are with a reputed provider
New users can find it difficult to implement due to the difference in interface and technology.
VPS Hosting
VPS hosting allocates Virtual Private Server ( dedicated resource) on a server with multiple users. Comparatively, it is better than a shared hosting plan in the sense that you get a personal (private) resource here.
If you are one with a medium-level traffic website, this hosting is for you.
Why use VPS Hosting
Cheaper than the dedicated servers due to virtualization technology
Flexible and easy to setup
Easy to upgrade
You are allocated dedicated resources so won't be affected by your sharers
Why avoid VPS Hosting
More expensive compared to shared hosting
Not complete control over the server compared to dedicated hosting
Chance of resources being not appropriately allocated.
Dedicated Hosting
Dedicated Hosting is a physical server that hosts only one website. If you are hosted on a dedicated server, there is only your website getting the whole server resources.
Dedicated hosting servers are generally of two types.
✔ Managed Hosting: In the managed Hosting, your service provider will take care of all your server operations, making it easy for the user to handle the control panel.
✔ Unmanaged Hosting: in the unmanaged hosting plan, the service provider cannot take care of your server operation. For this reason, this Hosting is suitable for technically savvy people.
What to look for when choosing the best hosting provider?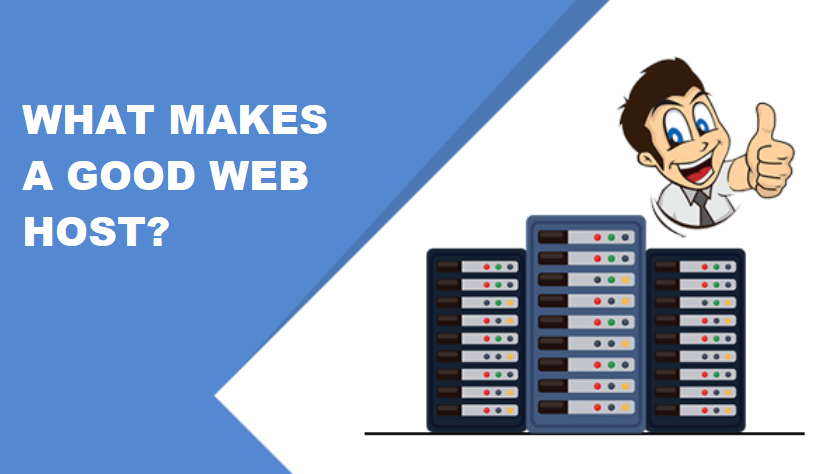 You can only benefit from the hosting service if you can find the right hosting provider. With so many companies mushrooming each year, many of us struggle to find the real deal. It gets even more challenging if you are new to server technology.
Here are essential features that you should look for to test the reliability and worthiness of a hosting provider
Reputation
The reputation in the industry gives you a sense of how the business is doing. Look at the third-party source for their credibility and reputation they have managed to own. Find out how users and tech experts mention them.
Uptime
A website that frequently goes down is never a pleasing experience. That will only ruin your brand and bring Loss to the website. Your web hosting provider is responsible for keeping your website up and accessible. Most hosting providers have 99% server uptime, but some provide you up to a 99.99% uptime guarantee.
Customer support
Make sure that you don't have to wait for hours to get your issue resolved.
Look at how they are supporting their existing customers. Are there multiple ways like phone, chat, email, etc., to get support?
Hosting Plans
While buying a web hosting service, don't look for a short-term plan. You may want to stick with the plan that fulfills your current requirement, but what if you needed some advanced upgrades sometime later.
Make sure your plan gives you room to grow. Take some time to find out if your hosting provider has plans that can match your needs if you grow bigger.
The pricing
Pricing is an important factor in deciding the right web hosting for your website. Make sure the cost of the plan worths the features you receive. Some hosting providers provide greater bandwidth and more features at the same price the other is offering.
Website Backups
Look for an automatic regular backup feature while looking for a web hosting provider. Backing up the website and database is important in case something unexpected happens.
Add-on domains
Having add-on domain features is a great way to manage multiple websites. It is good to make sure your web hosting company lets you add multiple domains.
Bandwidth
Most of the hosting providers offer unlimited bandwidth. However, if the bandwidth is limited by your provider, You will have to pay an extra charge.
You may also want to read: Free WordPress Blog Themes
Best 10 WordPress Hosting providers
Now you know what web hosting is and what it takes to be a good web host, let's learn about the ten best web hosting for WordPress. With so many to choose, we have come up with some of the best ones in the industry that have been recommended by experts, businesses and rated high by customers. Let's dive in.
BlueHost
Quick overview
You can take Bluehost as the most popular web host for WordPress. Being officially recommended by WordPress, they are great for all kinds of websites. Bluehost is mostly loved by small business owners and bloggers using WordPress website. There is no reason they shouldn't as Bluehost has an excellent introductory price and one-click demo import.
Uptime: 99.98%
Support: 24/7 live chat, knowledgebase, phone
Pricing: Starting from $2.46 per month.
Features of Bluehost
Bluehost is easy to use with customized cPanel
Great add-ons available
you get site builder for free
server uptime is superb
domain-specific email for free
fast page loading
Cloudflare integration for speedy loading
Provides free SSL certificate
The security level is trustworthy
What's good about Bluehost
Recommended officially by WordPress and trusted by millions
wide range of plans and options for a different type of users
Easy upgrade
offers anti-spam built-in solution
you get Cloudflare support
provides security features like SSL and sitelock protection
30-day money-back guaranteed
the server uptime is great
What's bad about Bluehost
The shared hosting plan is not available on a monthly basis.
They make you pay for moving from a different hosting service to Bluehost, and you get this for free with most other providers.
No windows server is available.
Their backup service can't be appreciated
SiteGround

Quick overview
This Bulgarian startup by University students in 2004 is now a million-dollar company with currently more than 500 employees. The top-notch support and high value they provide has managed to rank them the top hosting service provider today. All you get from Siteground as a host is their impressive features and excellent performance. Once you start using their server you will find no reasons to turn back.
Uptime: 99.99%
Support: 24/7 Live Chat, Phone Support, and Tickets
Pricing: Starting from $6.99 per month.
Features of SiteGround
They provide you with unlimited bandwidth
One-click WordPress installation
WordPress expert tech support
Supports PHP7
Let's Encrypt and SSL support with free SSL certificate
SG Optimizer is the lead player
The response time is exceptional
What's good about SiteGround
SiteGround has excellent uptime
Because of the SG optimizer software and their hardware type, you can expect the speed that is par excellence.
The customer support is beyond comparison.
Multiple server locations to choose from.
They provide amazingly advanced features like stagging and own caching
No limit to the traffic.
What's bad about SiteGround
I believe the price you pay for the SiteGround level of hosting is totally worth but for many, it is certainly not the cheapest in the market.
You need to pay an extra price if you want the SiteGround support team handle your site migration
For a huge site, the database size can be an issue.
No windows based servers
Hostgator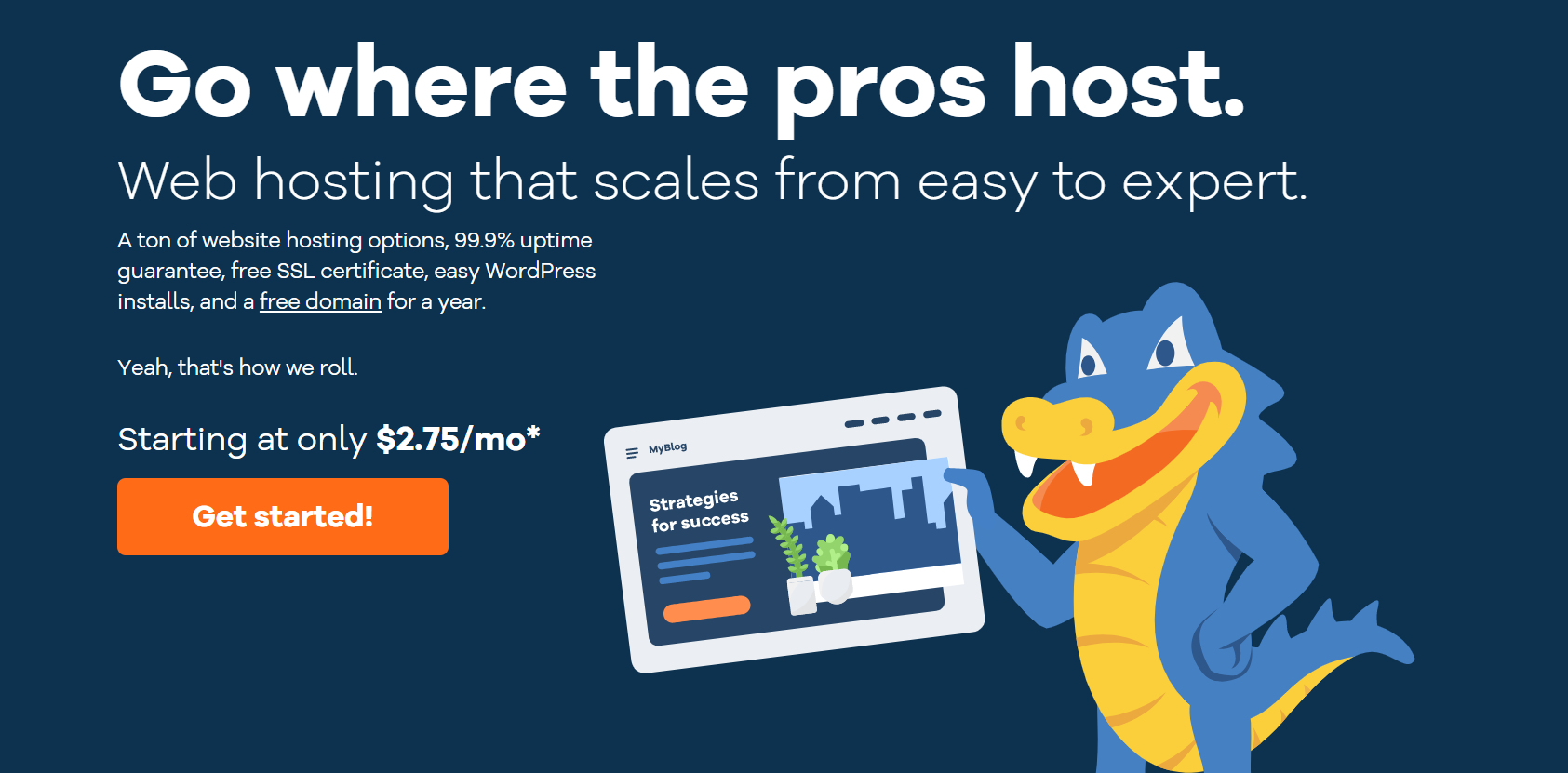 Quick overview
Hostgator is one of the biggest and oldest players in the web hosting industry with excellent customer support. They are more liked for their affordable web hosting packages, which come under three different plans, Hatchling, Baby, and Business. With each hosting plan, you get a built-in Gator, you build your site using drag and drop page builder. Hostgator has built-in tools to help you install WordPress, blog, and gallery.
Uptime: 99%
Support: 24/7 Live Chat, Phone Support, and Tickets
Pricing: Starting from $2.75 per month.
Features of Hostgator
Hostgator gives you an unmetered bandwidth
99.9% uptime guarantees
You get free migration of your websites
They have Google AdWords and Bing Ads credits for their users
cPanel control panel, which is extremely user friendly for the beginners
PHP version 7 and SHS access
Hostgator gives you unlimited email accounts
Unlimited Sub Domains, FTP Accounts, and Email Accounts
What's good about Hostgator
One good thing about Hostgator is they help you transfer your site for free
They have a 45-day money-back guarantee, which gives you more time to test their server.
The offer you credits for Google Adwords is cool for getting started with Search engine ads.
What's bad about Hostgator
The pricing is fair only if you opt for long term plans.
Support is on average
Cloudways
Quick overview
Cloudways is a perfect balance between affordable pricing and great functionality. Founded in 2011, this dynamic company is based in Malta.
The cloud way is an intermediate gateway between cloud hosting and users. The hosting is more targeted to experienced users to help them choose one of the cloud hosting providers. With them, you get access to more data centers, which would otherwise not be easy, and they integrate them with their customized features. Cloudways is partnered with most cloud hosting providers and provides a reliable performance when you host on their cloud server.
Uptime: 99%
Support: 24/7 Live Chat, Phone Support, and email.
Pricing: Starting from $10 per month.
Features of Cloudways
Cloudways will take care of your website migration
You get a faster loading site with Cloudways CDN
Auto healing feature to protect your site from crashing
Dedicated firewall to keep your site more secure
Built-in Lets Encrypt SSL to allow more secure communication
They provide one-click installation for apps
Single click site installation with the easy setup process
Dedication 24/7 support
What's good about Cloudways
3-DAY free trial without adding a credit card
You can add any number of WordPress sites as no installation limit is imposed
The Console is userfriendly and easy to use with plenty of tools and features
Your site is stored in multiple servers in multiple locations loads abruptly.
Can be easily migrated in the case of any unexpected incident
Improved performance by using SSD
Highly scalable hosting
This is a pay as you go model of hosting, so full payment control with yourself
What's bad about Cloudways
You cannot use cPanel as they have their Console
The hosting can be complicated for beginners since it requires some level of expertise.
WP Engine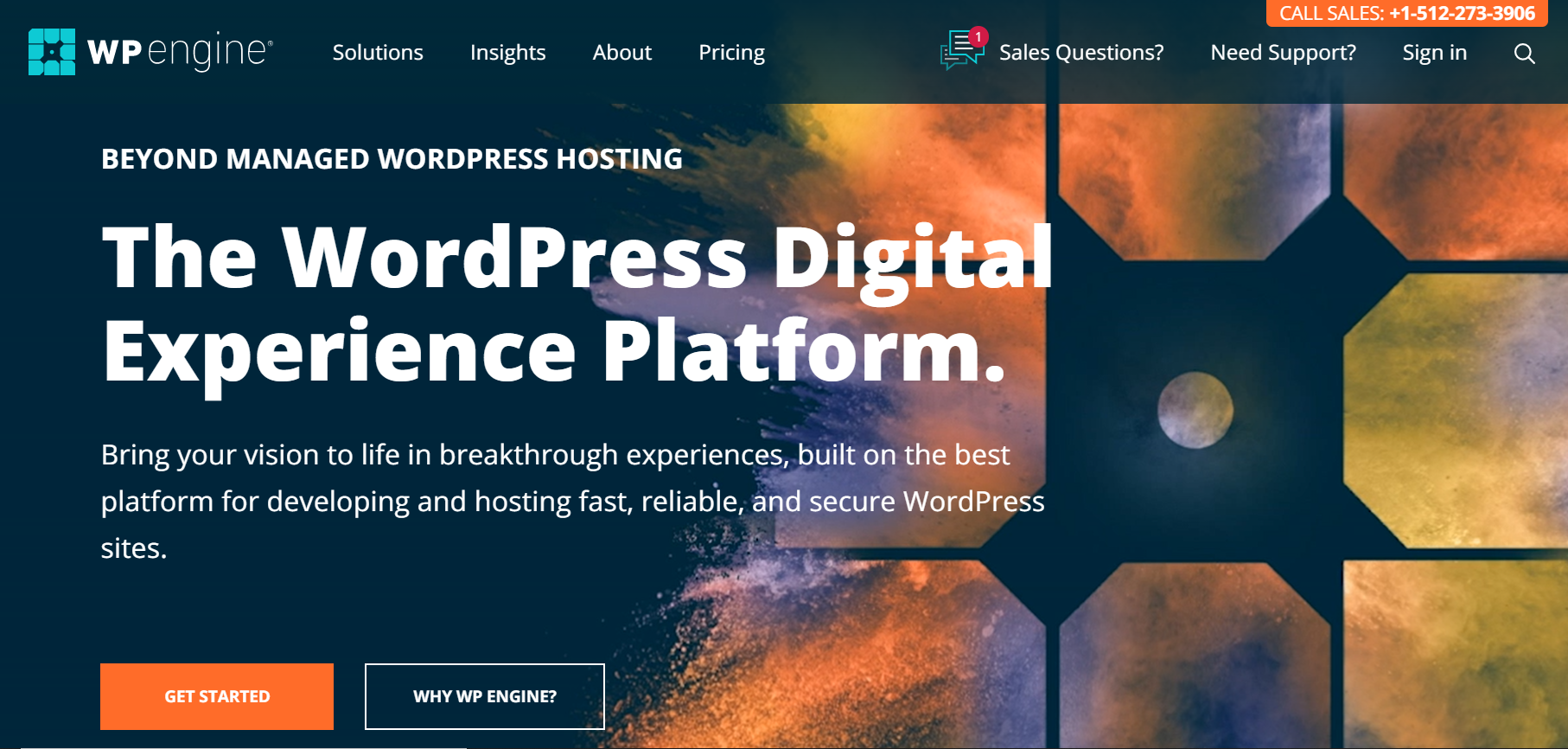 Quick overview
WP engine is the best know WordPress managed hosting provider. Spread across 140 countries 12,0000 customers using its server. WP Engine's hosting environment is highly optimized for WordPress Websites. They are a great option for users looking for affordable yet featured-packed performing hosting.
Uptime: 99%
Support: 24/7 Live Chat, Phone Support, and email.
Pricing: Starting from $25 per month.
Features of WP Engine
Cloudways will take care of your website migration
You get a faster loading site with Cloudways CDN
Auto healing feature to protect your site from crashing
Dedicated firewall to keep your site more secure
Built-in Lets Encrypt SSL to allow more secure communication
They provide one-click installation for apps
Single click site installation with the easy setup process
Dedication 24/7 support
What's good about WP Engine
Excellent server uptime.
Customer service satisfaction.
Frequent backups.
.Optimized for WordPress
Robust and consistent performance
What's bad about WP Engine
The plan may not fit most of the startups and small businesses.
They only have managed hosting on shared servers
GoDaddy
Quick overview
GoDaddy is one of the most famous all in one hosting solution for websites. More than 20 million customers trust GoDaddy, and they have already managed more than 80 million domains.
They have a WordPress, optimized, shared hosting service to give you a higher WordPress performance. There is nothing that big to expect from GoDaddy, but it is the right choice for small businesses and starters. Their pricing plan is not the best in the industry.
Uptime: 99.95%
Support: 24/7 Live Chat, Phone Support, and email.
Pricing: Starting from $5.99 per month.
Features of GoDaddy
Cloudways will take care of your website migration
You get a faster loading site with Cloudways CDN
Auto healing feature to protect your site from crashing
Dedicated firewall to keep your site more secure
Built-in Lets Encrypt SSL to allow more secure communication
They provide one-click installation for apps
Single click site installation with the easy setup process
Dedication 24/7 support
What's good about GoDaddy
The interface is straightforward, pretty simple, and easy to use, especially for beginners.
The speed of their server is pretty reliable
They have windows based hosting option
The storage limitation is generous
The bandwidth you get is unlimited.
What's bad about GoDaddy
The deals are not the cheapest
Uptime is not very good at all
No SSL and no backup unless you pay for extra add ons
No free migration offered
No advanced features for developers
DreamHost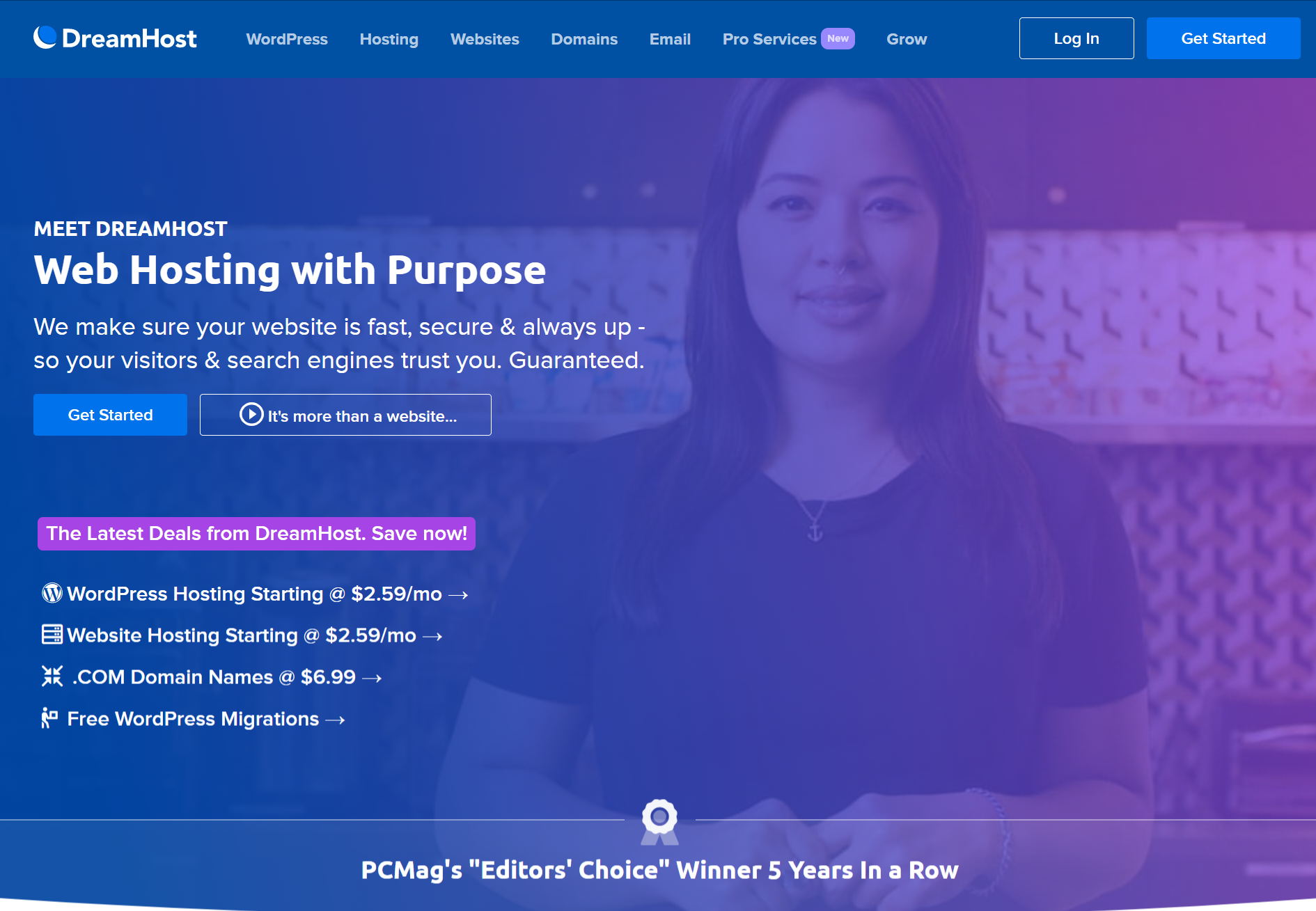 Quick overview
DreamHost is more prevalent among developers, designers, and marketing professionals. Founded in 1996, DreamHost is one of the oldest hosting providers that now powers more than 1.5 million websites.
WordPress officially recommends DreamHost's impressive performance.
Uptime: 99.99%
Support: 24/7 Live Chat, Phone Support, and email.
Pricing: Starting from $2.59 per month.
Features of DreamHost
Unlimited bandwidth and storage
Easy use advanced Panel
one-click powerful installer
Free domain, free email, and free privacy protection
Free SSL and automated backups
Easy and instant WordPress setups
Unlimited disk space and network transfer limit
What's good about DreamHost
The speed is above the average
Dream host give you 97 days money-back guarantee
The pricing plan is very affordable
They are proud green hosts trying to be more environment-conscious
They don't push you forcefully for add ons and upgrades.
What's bad about DreamHost
The chat support is not very impressive. They don't have 24/7 chat support and is limited to ticket
Doesn't give your cPanel but provide their custom panel
website migration is offered in the paid version
All the servers are located in the US only.
A2 Hosting
Quick overview
A2 Hosting is an excellent blend of performance and pricing. The price you pay for their service is totally worth it. They have a strong focus on performance with powerful turbo servers. They are one of the oldest hosting provider running since 2001, with long years in the industry service, they proudly promise 20x faster servers. Not only their pricing seems exciting, but also their features and performance are excellent.
Uptime: 99.95%
Support: 24/7 24/7 via phone, chat, or email (ticket system
Pricing: Starting from $2.99 per month.
Features of A2 Hosting
They give you unlimited bandwidth to let you transfer as much data from elsewhere.
They assist you in moving the site from another server to their server for free of cost.
Turbo server offering 20X times faster speed
WordPress installation in one click
99.99% uptime guarantee
They offer free Cloudflare CDN.
What's good about A2 Hosting
They provide great speed regardless of the plan you go for
They have data centers in different parts of the world, including the USA, Europ, and Asia, making it easy to provide the content faster.
Even for the shared hosting plan, they provide 99.99% server uptime.
A2 hosting is highly scalable, giving you enough room to grow.
They are packed with lots of features to give your necessary options for setting up an eCommerce store.
What's bad about A2 hosting
They charge you for upgrading and downgrading
The turbo server providing 20X speed is available in the expensive hosting plan.
Inmotion Hosting
Quick overview
Inmotion hosting is more known for its VPS hosting plans for WordPress. This is one of the cheapest hosting plans that come with excellent features. With each plan, you get a free site migration service, and also they have SSD storage for free. Inmotion hosting takes care of all the software and plugins with full automation.
Uptime: 99.99%
Support: 24/7 24/7 via phone, chat, or email (ticket system
Pricing: Starting from $6.99 per month.
Features of Inmotion Hosting
Inmotion hosting provides unlimited and free domain
You get unlimited disk space
Unlimited bandwidth with all the plans
Marketing tools with all plans
Free SSL on all plan and free security pack with the advanced plans
What's good about Inmotion Hosting
Great server time that is above average
Excellent Customer Support
90 days money-back guarantee
They highly support open source projects
You get a premium Sucuri plugin if you are a WordPress user
Site transfer for free
They provide eCommerce support
What's bad about Inmotion Hosting
The low pricing is only for 24 months. Then after you pay an increased price
The server speed is not remarkable compared to the competitors.
Hostinger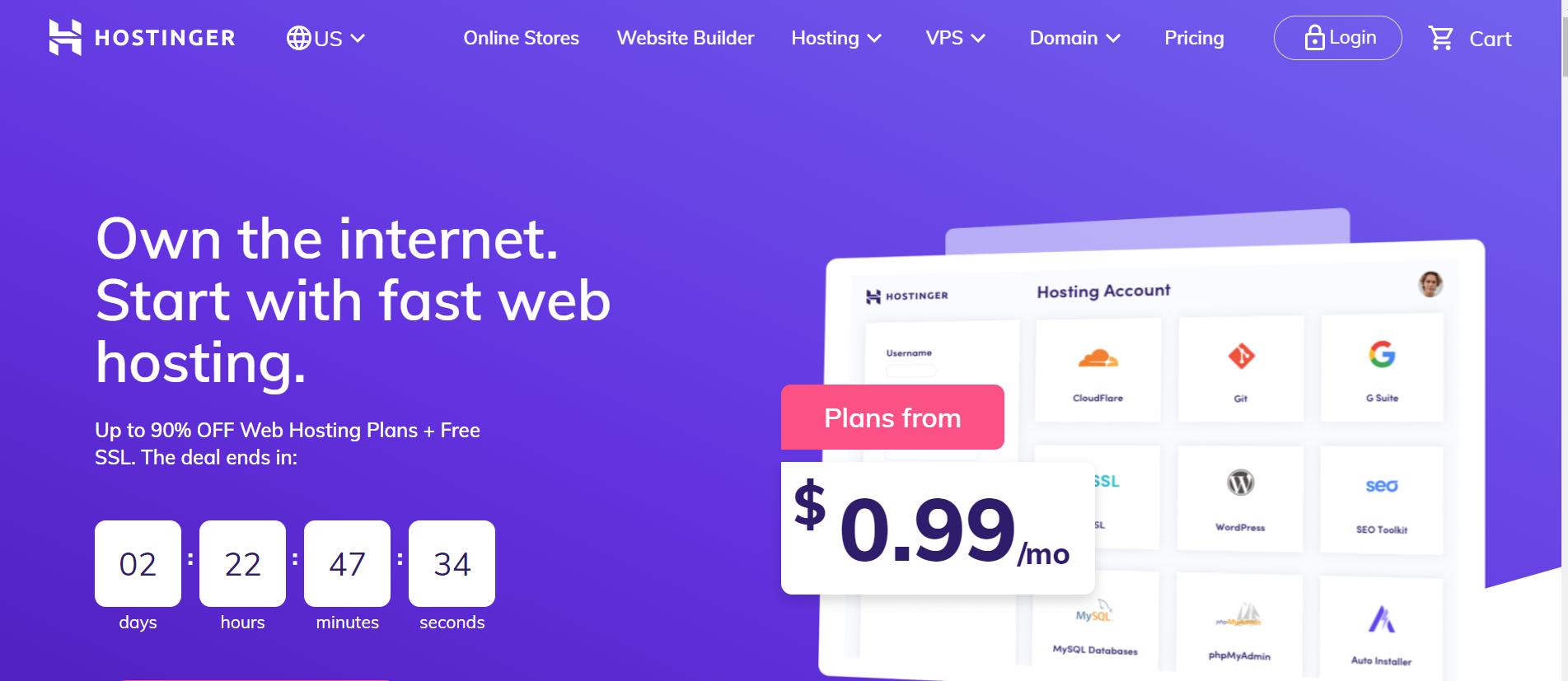 Quick overview
Hostinger is one of the most affordable web hosting available with the lowest plan starting at less than a dollar. They provide you hosting at
$0.99/month if you choose to get locked for a 4-year plan and this is something crazy deal. But don't worry, they won't let you feel like they are a cheap hosting provider. They have amazingly performing servers together with an excellent customer support team and extremely easy to use interface
Uptime: 99.9%
Support: 24/7 24/7 via, chat, or email (ticket system
Pricing: Starting from $0.99 per month.
Features of Hostinger
You get an unlimited number of website hosting
Unlimited disk space and bandwidth with each plan
Unlimited database and disk space
Easy to use user-friendly website builders
Highly optimized speed for wordpress
Free domain name under the yearly plan
What's good about Hostinger
Hostinger is known for excellent customer service
Uptime is practically great
Minecraft servers with 3X speed optimization
30 Days risk-free money-back guarantee
You get multilingual customer support
Easy to use a free builder
What's bad about Hostinger
Lack of dedicated hosting
Windows hosting option is limited to a certain plan
You don't get phone support
Green Geeks
Quick overview
GreenGeeks are hosting provides based on renewable energy. Don't only consider them as eco friendly, they are equally great with their service. The features are great, the service is top-notch and the pricing is affordable making them a perfect hosting provider. For WordPress users, they have one-click WordPress install features that make installing Wordress extremely easy for the beginners and non-technical users.
Uptime: 99.9%
Support: 24/7 24/7 via, chat, or email (ticket system)
Pricing: Starting from $2.95 per month.
Features of GreenGeeks
100% carbon neutral green hosting
Unlimited web space based on SSD storage
Free domain registration with a free site builder
They give you Let's Encrypt SSL certificate for free
Free CDN integration and free regular backups.
What's good about GreenGeeks
100% carbon-free green web hosting
Highly scalable hosting service
Great server time with 99.99%
They let you migrate your site for free
Your data is backed-up nightly
What's bad about GreenGeeks
If you are looking for windows hosting options, you are disappointed
dedicated and VPS hosting is more expensive compared to other hosting providers
Wrapping Up
This brings us to the conclusion of our top 11 WordPress web hosting to choose from. All the above hosting providers are worth their service in one or the other way and they are targeted to different customer segments. Siteground may be a good fit for if you want an overall value but Hostinger or BlueHost can be the better option for someone looking to start with the cheapest plan. The choice of Hosting service and plan depends highly on what your needs are.
Which hosting provider are you using for your WordPress website? Share your thoughts in the comment.