Image optimization? Do you really need this?
For most of us, the images become an afterthought once they're on the website, but they shouldn't be.
You can have the most beautiful and valuable content in the world but if you are doing wrong with the images, your websites will fail to impress the audiences. Images are extremely important to break the content into chunks and make the whole story more readable.
Using the images correctly can capture users' attention and keep them hold throughout the content. On the flip side, using many unoptimized images in the web page will only ruin your website by making it load slow.
Fortunately, WordPress makes it easy for you to handle image optimization by providing tons of image optimization plugins. The plugin does all the work to make sure all the images are optimized.
I have come up with a list of best image optimization plugins that work excellent to optimize bulky images and are my favorite plugins. Have a look at the list and enjoy the details.
Before we get into the list, let's understand a few things regarding WordPress image optimization.
What Is Image Optimization?
Image optimization means working on your images to make it better in terms of specific criteria like image dimension, image size, resolution, format, and attributes.
Optimizing image help your website load faster and provide an improved user experience to the visitors.
Why Is Image Optimization Important?
By optimizing the images on your website, you will tremendously improve the user experience of your website. The main advantage of having optimized images are:
It improves the page load time
Improves user experience of your site
Good for SEO as it improves ranking
Reduce the load on the server
Boosts conversion
Top 6 Image Optimization Plugin for WordPress
Imagify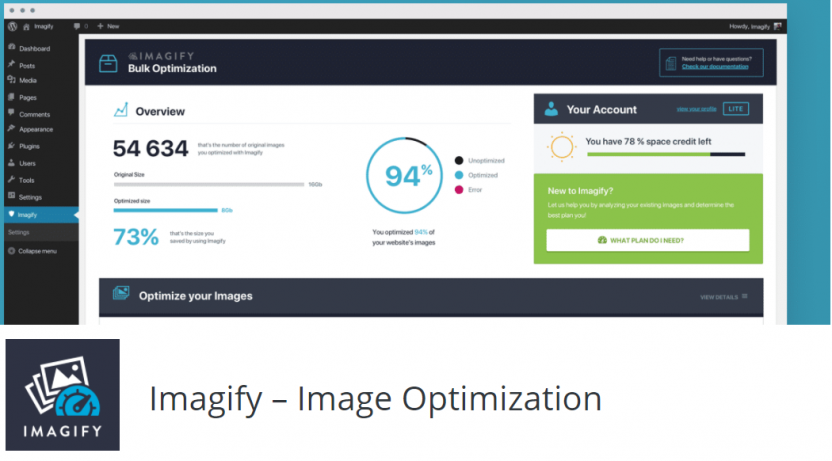 Imagify allows you to achieve lighter images without losing the original quality. One of the most advanced plugins for WordPress image optimization, this tool auto optimizes the image on upload.
Why Use Imagify?
If you already have many bulky images on your website that are unoptimized, Imagify auto-optimizes all of them in just a single click. This helps you save time in optimizing the image manually.
The plugin has three levels of compression.
Lossless compression: retains the quality
Aggressive compression: small loss in the image quality ( usually unnoticeable)
Ultra compression: Most advanced compression with some reduction in the image quality, but performs better.
Using the plugin is free if you make up to 1GB uploads per month. If you think you are going to have more than 1 GB of image uploads in a month, you can opt for the pro plant that starts with $4.99/month
Smush
Smush is an award-winning plugin that has been tested and benchmarked for speed and quality. It is one of the most loved plugins in the WordPress community.
Smush is the easiest way to optimize the images without visibly degrading the image quality.
Why Use Smush?
Turn on lazy load, resize and compress image, optimize image, and significantly reduce the page loading time using this free image smusher.
compress without a visible decline in the image quality
Enable lazy load to create a better user experience
Compress a bulk of images in a click (up to 50).
Optimize the images that are not in the media library. This plugin smushes the directory images as well.
Works with Gutenberg block
Compatible with all the popular themes.
Smush is also a better choice in that it lets you optimize unlimited images for free. But the red flag comes in when your size exceeds 1 MB. Also, the free version offers only lossless compression.
Compress JPEG & PNG Images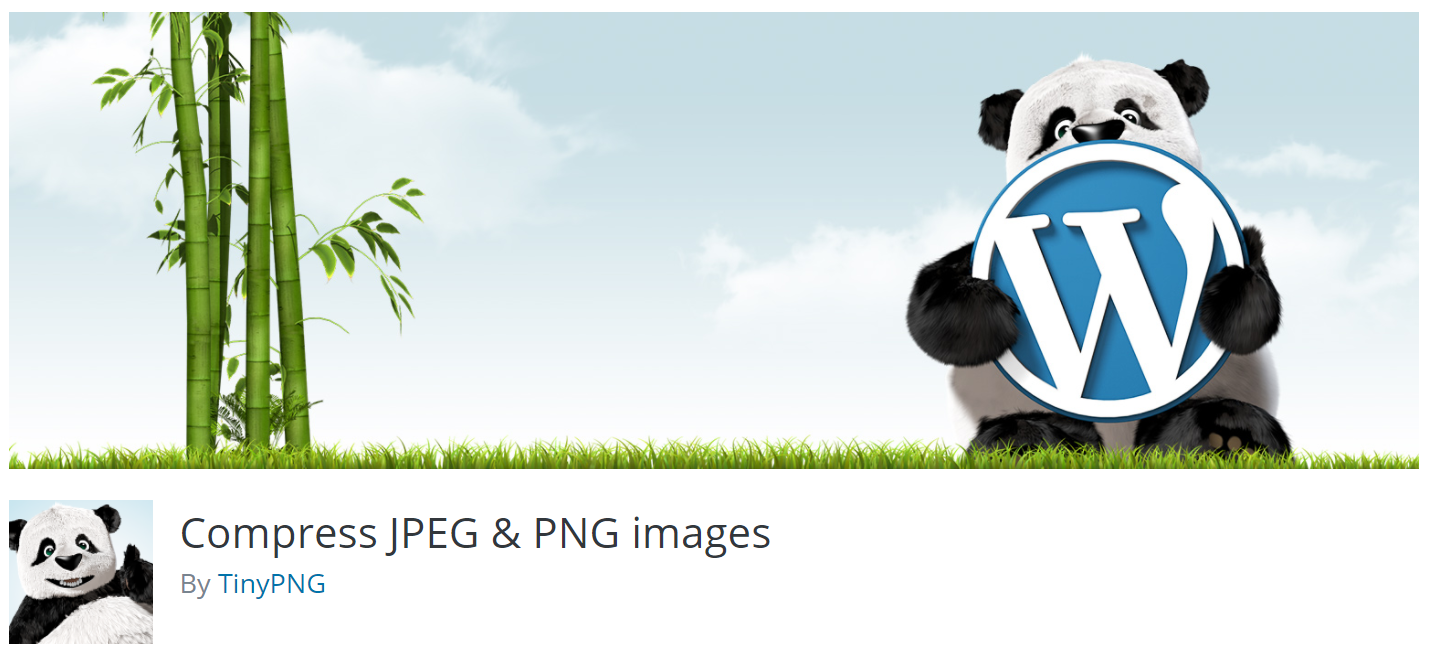 The TinyPNG plugin comes with a spotless dashboard and is extremely easy to set up an optimization setting. This plugin automatically optimizes your images upon upload.
Why Use Smush?
Automatically optimized images upon upload
No file size limit
Optimize all the bulky images in your media library
Compatible with WooCommerce
Optimize and resize uploads with the WordPress mobile app
There is no limit to the file size and supports WooCommerce. Looks pretty captivating. You are allowed to make up to 500 uploads per month for free.
ShortPixel Image Optimization
ShortPixel is a free easy to use image compression plugin. This is another excellent install-and-forget plugin that takes care of all the images on your website.
ShortPixel compresses all the previously uploaded images and scales new images automatically upon upload.
The plugin is compatible with the gallery, slider, and eCommerce plugin and works well for pdf compression.
The plugin setting dashboard have clean interface and is easy to use.
Why Use ShortPixel:
Popular plugin with more than 200000 active installs
Suitable for image and pdf compression
Optimizes any images on your website, including the gallery and slider ones.
Can skip the images that are already optimized.
Works great for eCommerce websites using WooCommerce
Cloudflare integration
You can get 100 free image uploads per month and no file size restriction for an individual image. Anything more than this will cost you 4.99 per month up to 5000 images.
WP Compress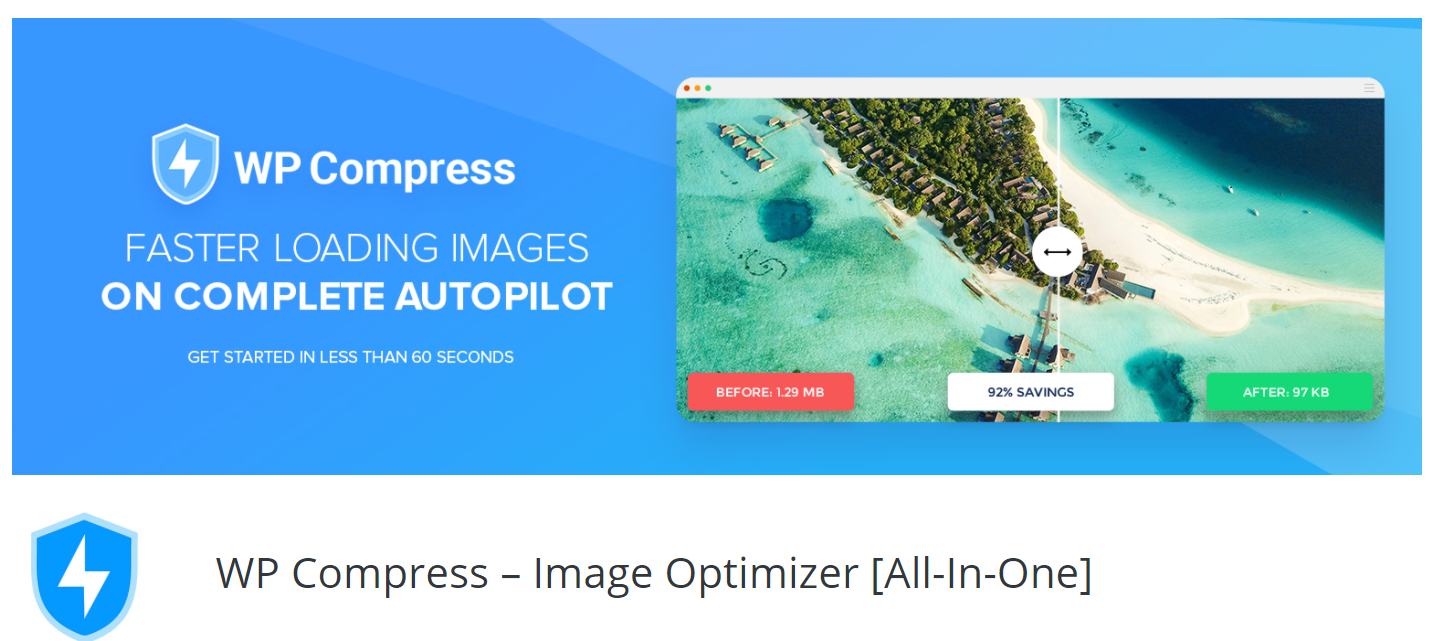 WP Compress is an all in one optimizer. it is a complete image optimization plugin that shrinks the file size of the images to improve load time and boost conversion
WP compress runs on autopilot. Link your website, and you are good to go.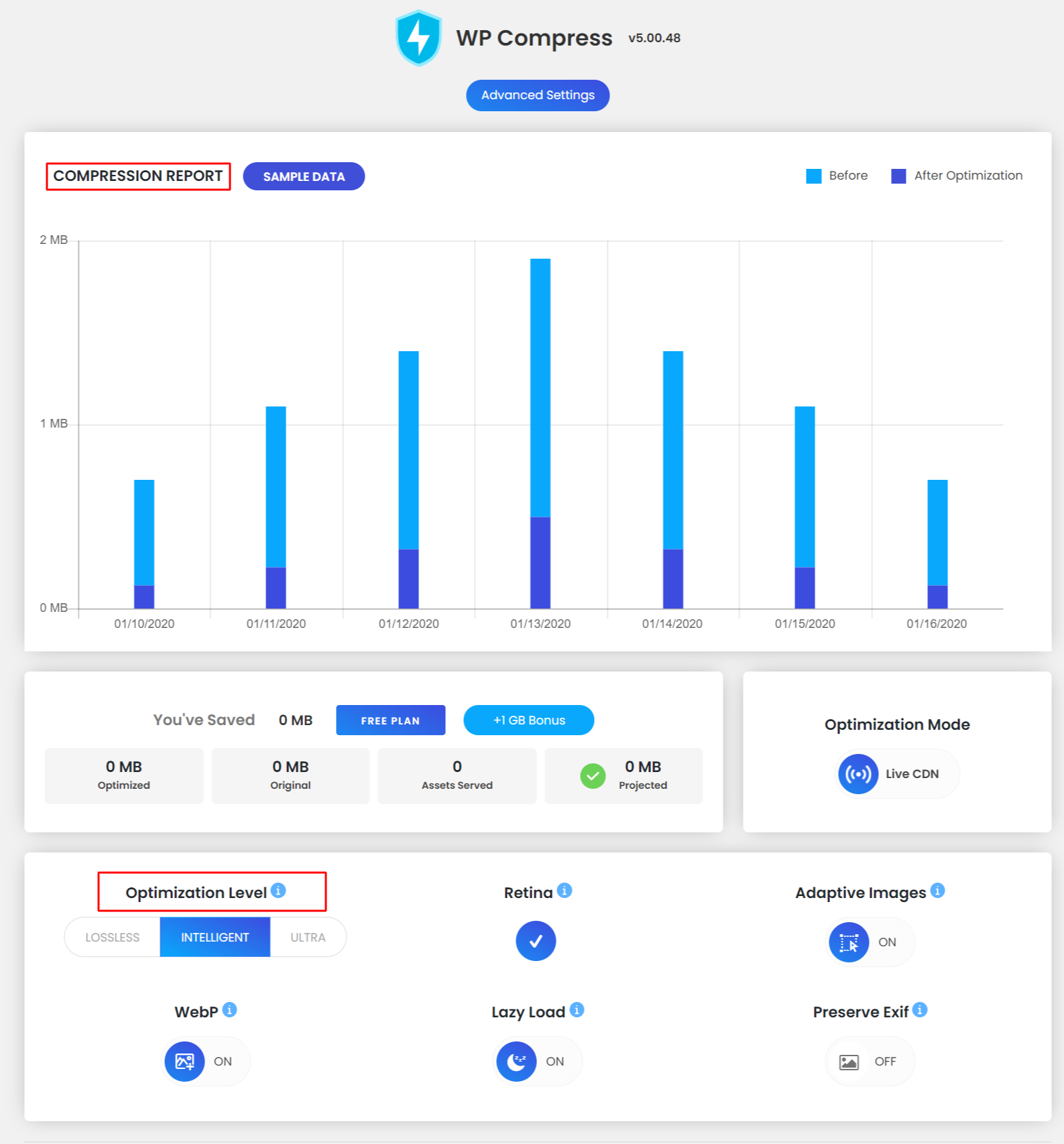 Why Use WP Compress
The plugin is loaded with agency features.
local and live optimization mode availability
delivers perfect image every time
convert and generate WebP images
ultrafast CDN
automated image resizing
one click bulk optimization
downloadable pdf report for agencies
detailed compression report
OPtimole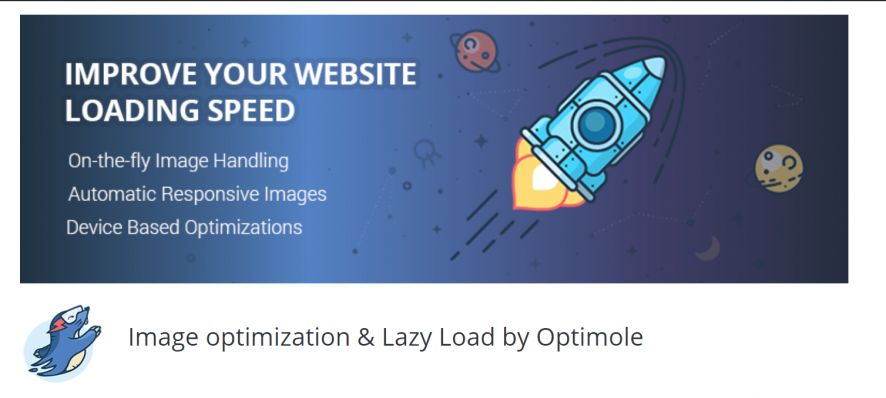 Optimole is a next-level image optimization plugin loaded with tons of ultra-modern features. These plugins run on autopilot to fully automate the image optimization process.
Install and activate the plugin, and you are done. The plugin can help you achieve up to 80% compression without letting degrade the images' quality.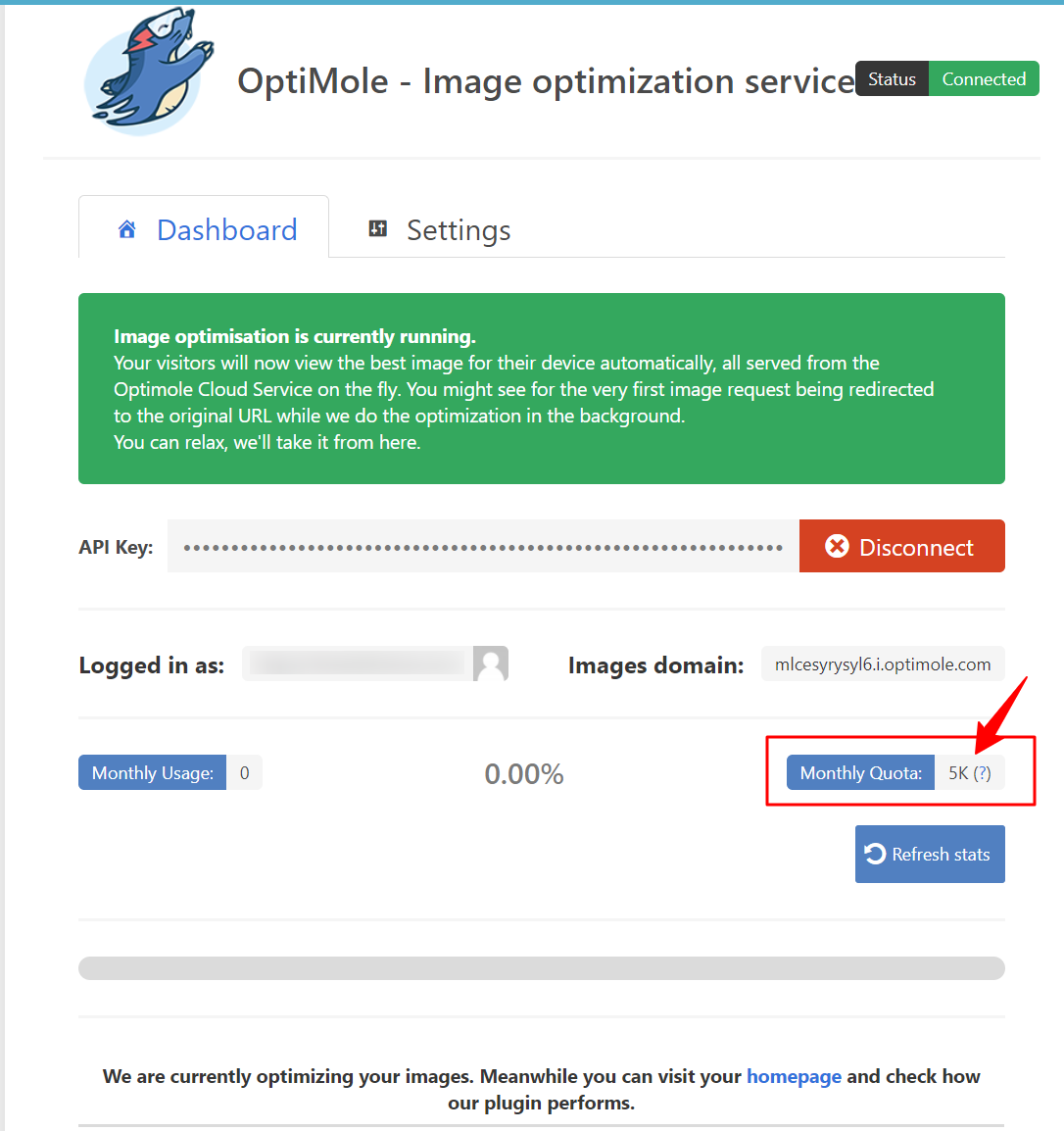 Why Use Optimole
Optimole is entirely cloud-based and does not create load on your server.
Picks the right size for the visitor's browser
The plugins serve the image via the fast image CDN
Use lazy loading to display images.
Compatible with page builders
Retina images and WebP supported
All the images are generated in real-time. They are not stored in the WordPress database.
The plugin is free to use for a website with up to 5000 monthly visitors. Beyond that, it costs you $22.52 up to 25000 monthly visitors.
Can I Use Free Plugins To Optimize Images In My Website?
Yes, Free plugins are absolutely fine to use unless you have some extra requirements. You can go with any of the plugins mentioned above. They perform very well even in the free version.
How Can I Optimize A Scaled Image?
Run your site on GTmetrix and see the maximum display size of the image. Resize the image to that size. Now, compress the image. Remove the unoptimized image and upload the new one.
Is Image Compression Same As Image Optimization?
Image compression is a part of the whole image optimization process. In image compression, the image size is reduced making sure that the quality of the image is maintained throughout.
How Image Optimization Plugin Can Help Your Website Load Faster?
Well! First, let's understand how the images can make your site load slower. Images are always more extensive than the plain text. This means they take a bit longer time to load compared to plain text. If your images are not correctly optimized, they can make your site load slow.
However, the image takes longer than text to load does not mean that you should use only text in your content and avoid images.
Instead, you should use images in such a way that they are served on your website in a much faster way. You can do this by using different image optimizing tools that are mentioned above.
How To Know If You need Image Optimization Plugin?
Before you go for an image optimization check, I suggest you check the site speed to see if your site is loading at an average pace. If your site is taking longer than the average load time, the unoptimized images can be one reason for this.
My favorite tool for checking the site speed in Gtmetrix.
You can also use the tools like Dotcom tools & Pingdom

Here I performed the Gtmetrix speed test for a blog page. The page load time here is 7.8 sec ( higher than average load time) which is not bad for which unoptimized images can be one of the reasons.
What next?
Now I will install a WordPress image compression plugin to optimize the image for the website automatically.
My favorite image optimization plugin here will be Smush.
This plugin will automatically optimize the image during the upload and optimize all the old images in bulk.
Now I performed the new speed test again( not the Re-Test ) to see if that made any impact on the page loading time
The page's speed is now reduced to 5.8sec from 7.1 sec after the plugin was activated.
This is how the use of a plugin can help you load the WordPress website faster by optimizing images using image optimization plugins.