Trust me, there has never been a better time to launch your own online business then there is today. With a boom in digital tools and platforms and growing social media, the world seems more connected regardless of the physical boundaries. Now is the best of both worlds to start eCommerce.
Starting an eCommerce website can be both exciting and terrifying at the same time if you are not a tech-savvy person. However, with a platform like WordPress setting up an eCommerce or online store becomes all that easy.
WordPress is the top CMS for building a website and have already powered thousands of eCommerce website and the list is growing each day.
eCommerce has huge potential. certainly starting an eCommerce business comes with trials and a lot of pitfalls, but despite every snag, there are plenty of inspiring reasons to get ahead and start an eCommerce pursuit.
Let me list a few of them to persuade you to kick off with an eCommerce business.
Freedom to work: Truly, eCommerce business will give you extended flexibility and freedom to handle your business. You can be as creative with the way you do business. You have the option to set up your online store from the comfort of your home and sell globally without having to set up any physical storefront.
Make Money easily: eCommerce gives you the ability to earn as you sleep. With eCommerce, you can set up an online store and keep earning passive income by leveraging technology and digital evolution.
work with anyone from anywhere: eCommerce makes it possible to work from anywhere and with anyone from any corner around the globe. You can run your online store with a virtual team being at different locations.
Easy to start: eCommerce is extremely easy to start. Form automated marketing automation tools to the platform for selling the products, everything is available to run a successful eCommerce store without breaking the bank.
eCommerce is here to grow: eCommerce is only going to grow. Research and Studies have shown that the eCommerce business will boom to reach a new height by 2021 with global eCommerce retails sales hitting to over $4.9 trillion.
Building a successful online store or an eCommerce business requires a good foundation. The success of your eCommerce store depends highly on the platform you choose.
The different platform offers a different level of flexibility and features. When all the platforms around their claim to be the best, you need to do proper research to avoid the second-rated eCommerce platform. Here are some of the popular platforms to choose from:
Despite all these platforms around, WordPress/WooCommerce is considered as the best platform to start and grow any online business.
The interface of WooCommerce is SEO friendly, has advanced features, and with the plugins and extensions used, WooCommerce makes it extremely easy and stress-free to complete the purchasing process.
Here are 7 big reasons why you should stick to WordPress for building your eCommerce store.
WordPress is free
WordPress is open-source software that is free to use for all. WordPress, when integrated with the WooCommerce plugin, gives you the ability to create a fully functional eCommerce store.
WooCommerce is the ultimate plugin to create an online store with WordPress and is free to use. Either you have thousand of visitors to your website or millions of traffic coming every month, WordPress is free in all cases.
WordPress ranks top in the CMS based websites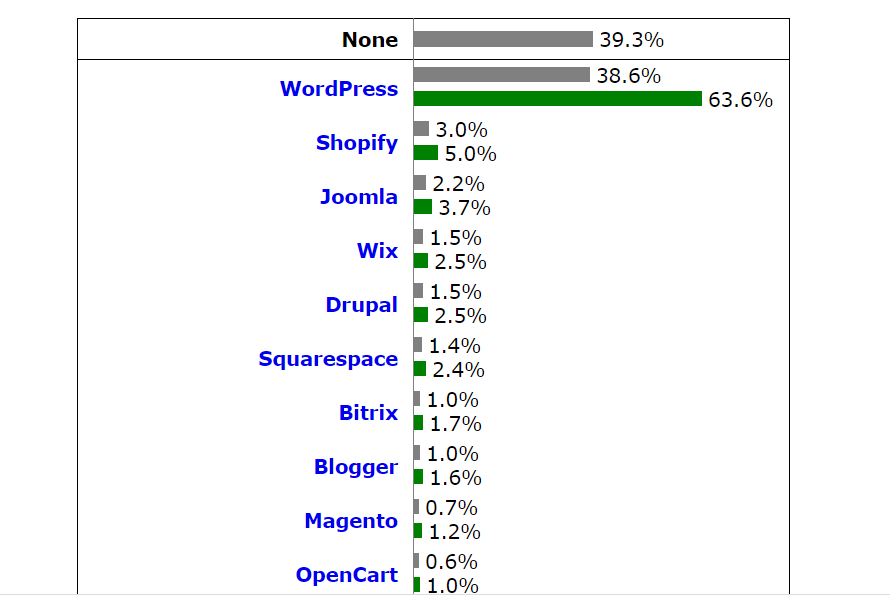 Don't think of WordPress as a popular CMS only, it actually tops the list of all the CMS by powering 63.6% of CMS based website and 38.6% of all kind of websites on the internet. From freelance bloggers to huge eCommerce giants, WordPress has managed to make its presence all around.
WordPress makes eCommerce SEO hell easy
There are more than 200 parameters that determine the ranking of any website in the search result pages. The more parameter you can fulfill, the higher you can rank.
The best part with WordPress is that as a CMS it makes it extremely easy to meet such ranking parameters.
WordPress is out of the box when it comes to creating SEO friendly websites. The built-in framework makes it extremely easy for the search engine spiders to crawl wordpress websites.
Different plugins and add ons available in WordPress makes it easy to perform all kind of SEO within the site and out of the site.
WordPress as a CMS is fast-loading, supports sitemap, image optimization, social media integration, and improved user interface.
Plugins like Yoast WooCommerce SEO helps you automate your optimization process and makes it easy to optimize your eCommerce store
WordPress is highly customizable.
WordPress website can be customized to make it look like the way you want. Features can be extended to increase the functionality of the site. Plugins.
Most of the WordPress users are not technical people with not much knowledge of codes and design.
Thousands of pre-built eCommerce templates will let you set up a website in just a few clicks. most of the themes are easy to customize as they come with their options panel to let your play around with the colors, logo, background, slide, and everything possible without the need of writing any codes.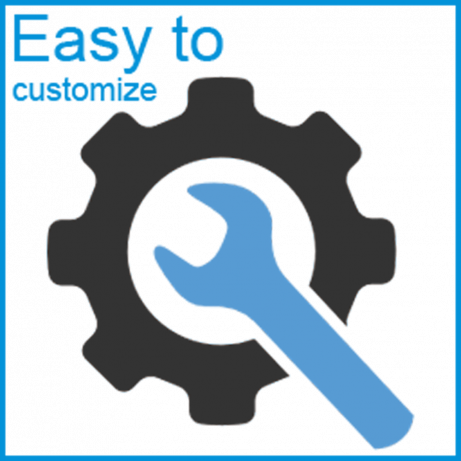 The plugins in WordPress comes very handily when you want to add custom functionality to your wordpress sites.
Plugins like contact form, membership, analytics, email subscription, and product display, wishlist, quick view, etc will help you to add advanced features to your eCommerce store.
Thousands of eCommerce themes are available to help you add products and setup an online store not in less than a couple of hours.
WordPress is easy to use and Manage
It is extremely easy to manage wordpress from the dashboard. All the management tasks like updating plugins and themes can be done from the dashboard.
Every time there is a new update available, wordpress notifies you and with a single click, you can perform necessary updates. It is easy to backup your entire data using plugins like WordPress backup plugin that performs an auto backup of your website and keeps it safe.
WordPress is safe and secure
WordPress is a safe and secure platform to run any kind of website when done the right way. As long as you take your business website seriously and implement the best practices, Your website on WordPress is always secure.
Many security plugins can be implemented to keep your site free from any kind of malware, and brute force attacks. The core of wordpress is always secure and you can implement some extra measures to strengthen it even further.
WordPress can handle different media types
WordPress comes with a strong built-in media uploader that allows you to upload images, audio, and video files. You can embed third-party media into wordpress website like embedding your tube video, Instagram photos, tweets simply by using the media URL.
All the common media files like .jpg, .png, .gif .pdf, .doc, .pptx, .mp3, .m4a, .mp4, .mov, .wmv, and .avi. are supported by wordpress.
WordPress has community involvement

Since WordPress is open-source software, it can be used by anyone. Spending a few minutes to play around with the dashboard will give anyone a clear idea of how the interface works.
Incredible resource for learning WordPress is found around the web. Tons of blogs and forums are there to participate and learn more about WordPress.
WordPress is fast, reliable, and powerful
WordPress powers more than 60% of the entire website CMS on the internet and is every day getting more and more better. WordPress is highly scalable letting your website grow together with your business.
Storefront Customization
The storefront is crucial in determining how the visitors are going to make interactions with your store.
If your store looks tedious and unoptimized, visitors may leave without going into the product details. An enticing layout and pleasing storefront do a lot in converting visitors into customers.
WordPress gives you the flexibility to customize your storefront to any level. Playing with themes and plugins can help you make your storefront the way you want.
Easy to integrate with other applications
WordPress can be made more powerful by integrating with third-party apps or plugins. The inbuilt functionality of wordpress can be easily extended to get more advanced and powerful functionality.
WordPress seamlessly integrates with third-party services like email marketing tools and different payment gateways to make simplify the marketing and payment process.
WordPress is evolving
With a great community behind, WordPress is evolving day by day and picking up new users consistently. The user interface and the features are getting more improved and the system is getting more enhanced over time.
WordPress is getting more SEO friendly, the dashboard is getting more and more convenient and people are loving it more than ever.
Tips on creating a successful eCommerce store on WordPress
In most of the case, the eCommerce store loses customers due to the lack of proper optimization. WordPress/WooCommerce makes it easy to create an enticing store which when done in the right way can turn your online store into a revenue-generating machine.
Pick a great theme:
WordPress eCommerce theme is often the building block of your eStore. Look for the theme that has easy customization options, flexibility, advanced features, and is optimized for search engines. you can embed the WooCommerce plugin with any WordPress theme without any hassle.
Create Blogs:
Write blogs and publish high-quality informative content to create awareness and solve problems. WordPress makes it extremely easy to publish content and optimize it for search engines. You can use Plugins like SEO Yoast to help you create better content.
Use the product links and shortcodes to redirect your visitors to the landing page. This is a great way to increase conversion through blogs.
Highlight the related product:
Remember to highlight the related products to your customers. Seeing similar and related products will inspire the audience to explore more products list.
Recommend best-selling products:
WordPress has widgets and plugins to help your showcase the top-selling products and products that are on sale. This practice will help to generate more lucrative leads.
Frequently Asked Questions
Is WooCommerce/WordPress better than other platforms?
WooCommerce is a free platform and advanced features, plugins, and extensions available in WordPress make it the most preferred eCommerce platform today. It has a pre-installed payment gateway, advanced inventory management, and tax calculating feature.
How much does it cost to start an eCommerce store?
Using WordPress and WooCommerce is free. Setting up a basic online store can be done free. Adding up premium plugins and extensions may cost your extra. There is no subscription-based payment with WordPress like with Shopify.
Can I set up an eCommerce with WordPress without any technical knowledge?
Setting up an eCommerce store with WordPress and WooCommerce plugin is pretty simple. It doesn't require any technical or coding knowledge to set up the store.
What payment gateways can I use with WooCommerce?
WooCommerce accepts all major credit and debit cards. Using WooCommerce will let your customer pay you directly without leaving your online store. WordPress/WooCommerce offers an integrated dashboard for safe and secure payment.
Strip
Paypal Standard
WooCommerce PayPal pro
uthorize.net
square
WooCommerce payment
amazon pay,
Alipay
What is the approximate cost of setting an eCommerce store?
The Primary cost for setting up a WooCommerce store is $10- $12 and the hosting fee of around $10/month depending upon the size and features of your store. Depending upon other requirements and business priorities you might need to spend on other add-ons and extension services.
Wrapping Up
Setting up an eCommerce is easy, but many times it can be frustrating if you fail to choose the right platform. If you are looking for a user-friendly, eCommerce platform that is easy to set up and customize and trusted by a large number of eCommerce websites: look no further than WooCommerce/WordPress.
You may also like to read: