WordPress's SEO friendliness is one of the main reasons why so many websites are built in this CMS. WordPress performs out of the box when it comes to SEO performance. WordPress is very flexible compared to other popular CMS and supports lots of features that give you added advantage in ranking high on search engines.
But, simply launching a website using WordPress doesn't make you land on Google's first page. You need to understand that great SEO takes lots of sweat and is not a quick game. There are hundreds of SEO checklists that require careful implementation. But, the good thing is that with WordPress, all these things become way more manageable.
What is WordPress
You should have known that WordPress powers more than 43.3% of the entire internet CMS and growing faster than ever. Let me tell you that the websites you often browse like BBC America, TechCrunch, Sony Music, MTV News, The Official Star War Blog, The New York Times, are powered with WordPress Technology. 
Earlier in 2003 launched as a blogging platform, WordPress turned more flexible and powerful with time, and by now, it has also evolved as one of the most successful e-commerce solutions. Hundreds of fully flexible WordPress eCommerce Plugins are available now to let you create an online store you can imagine.
Why WordPress is a better choice for SEO friendly Website?
WordPress as a CMS has tons of features that stick to Best SEO practice guidelines to make your optimization journey much more comfortable.
WordPress is designed for a content-focused website with SEO and UX in mind
Tons of guides and resources are available to help you improve your WordPress Website SEO
Almost all tools or plugins imaginable are available in WordPress that can really make your SEO process a cakewalk.
What is WordPress SEO?
Let me clarify that WordPress is not an SEO solution or an SEO booster in itself but a CMS that adheres to standard SEO practices to help you perform better SEO of your website. If you are not ready to put your hand dirty, don't expect WordPress to be a magic pill. WordPress won't work until you work.
WordPress is incredible when you don't have the necessary technical skills, and you still want to make your SEO stand out. In this case, WordPress has easy-to-use features to help you implement growth-driving details on the platform.
The benefit of doing SEO on your WordPress website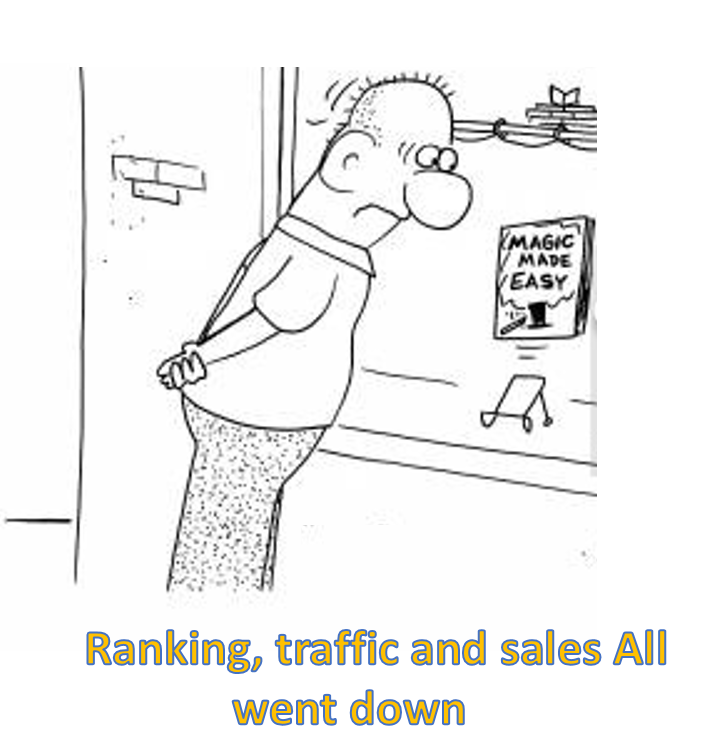 With millions of websites competing on the web, SEO is more important than ever. Getting traffic, getting more leads, engaging brands, selling products, and reaching out to the target customers, everything can turn easy and effective with SEO. By having a proper SEO strategy for the WordPress website you can:
Appear on the top of the search result pages in search engines like Google.
Improve user experience and usability of your website.
Increase trust and brand awareness. People trust organic results more compared to paid adverts.
Remain ahead in the competition and generate more revenue.
Getting Started with WordPress SEO
Before you begin with the actual SEO implementations on your website, I suggest you make sure that you meet the basics like:
You have a dependable WordPress hosting
Ensure your hosting is dependable in terms of speed, uptime, performance, and security because these factors affect your SEO score. Spend time analyzing your hosting provider and getting enough details about the hosting you are using. 
Compare Best WordPress Hosting 2020
Your WordPress theme is SEO-friendly
Literally, there are thousands of themes for WordPress available. From the WordPress official repository to the Private marketplace, You can find great themes.
New free themes are regularly added in the WordPress Theme Repository.     
They are free to use for all. Free themes are limited to features and support. If you do not want to compromise with the features, security, and performance, I recommend you go for the premium themes. You can find a great collection of premium themes at a marketplace like Theme Forest and Envato. 
Find an awesome collection of Free WordPress Themes and Premium SEO-friendly Themes.
You have installed the necessary optimization plugins
Plugins are a real smash hit when it comes to WordPress SEO. You should install and activate an SEO plugin before you go deep down on SEO things. You can select and install one from the list below: 
SEO Yoast: Free to use but the premium version have more advanced features.
Rank Math: Free to use
All in one SEO Pack: Free to use, but the pro pack gives you more options.
Quick question, What does the SEO plugin do?
You should remember that a plugin will not optimize our website or solve your SEO problems: It only makes it easy for you to do optimization tasks. SEO success depends on your ability and the way you tackle it.
Performing SEO on WordPress pages and posts step by step
Optimizing the post/page title
The title of your page or post should be appealing and bold enough to grab visitor's attention. Poorly written titles decrease the CTR (Click Through Rate) because they fail to generate curiosity among the visitors. CTR has a lot of impact on your SEO, and Optimized titles with a clear and bold message can increase the CTR to a considerable extent.
Google typically displays the first 50–60 characters of a title tag. So, it is recommended to make your title length below 60 characters. Try to include your main keyword in the title text, but only if it makes sense.
Write a clear description
The description is a paragraph or a line of text that is displayed just below the title in the search result pages. Typically, the description text is up to 160 characters long. You should write it in a way that evokes a sense of curiosity. You cannot transport your visitors if you fail to get them into your train. A great description will keep the story get going.
Find a focus keyword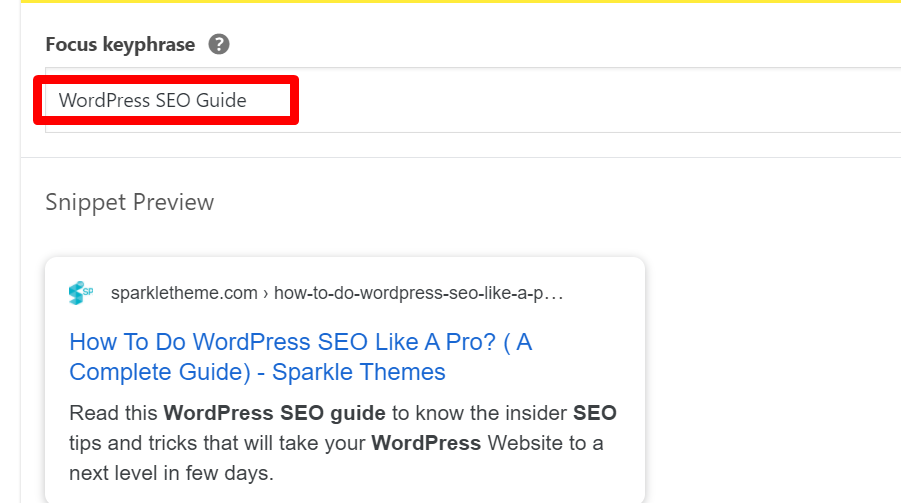 A Focus keyword is a search term that you want your post to rank for. By selecting a focus keyword you are telling the search engine that your content is related to that particular term.
For this post, I have chosen the "WordPress SEO Guide" as my focus keyword. By looking at this phrase, you will be able to understand that the entire content is based on WordPress SEO.
Optimize for inbound and outbound link structure.
Linking your post to different pages/posts of the same website is internal linking, whereas connecting your pages/posts with the other website means linking externally. Both kinds of links are crucial for better ranking. :
the relevance of pages;
the relationship between pages of the same website;
The value of pages.
And, the authority of the page
Read more on internal and external linking practices.
Break content into a subheading
No one enjoys reading your blog post in a wiki format. Make it clean and interactive by breaking it down into appropriate headings and subheadings.
Maintain your content in a hierarchical order based on H1, H2, H3…..so on. It is recommended to use keywords in your main headings but inserting them forcefully is not a good idea.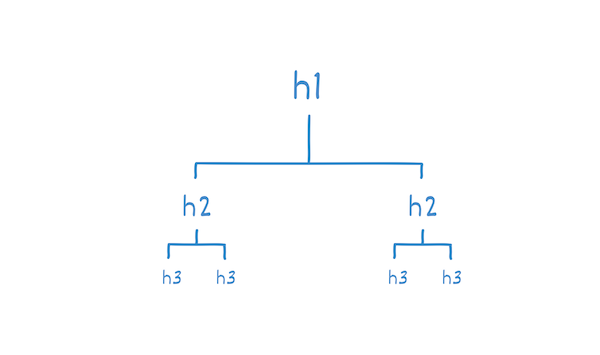 Optimize images
Optimizing images is very important for loading a website quickly and creating a better user experience. Wrongly used images can not only hamper a website's performance but also damage the impression of the overall content. Do this to make your image optimized:
Give an appropriate name to the image file
Use the alt attribute with all the images. Try to include your keyword in the alt attribute and make it SEO friendly.
Resize and compress the images to make it light weighted
Create custom images that reflect your content the most.
Optimize your slug
Create the right slug that is easy to read. When you write a good slug it affects your SEO in different ways. A good slug should contain your main keyword and look user-friendly. Typically, it is better not to include a function word in the slug. Keep your slug text to lowercase only and make it short and sweet.
Use your keywords Appropriately.
Using the keyword in the right way is as important as using the right keyword. Your keyword should not be cluttered in a place. Distributing keywords evenly throughout the content is very crucial.
It is a good idea to include your focus keyword at the beginning of the first paragraph or, if not, somewhere in the first paragraph.
Also, use the keyword synonyms throughout the content for better keyword optimization.
Create an XML sitemap for your WordPress Website
Yoast SEO plugin automatically creates an XML sitemap for your website. Make sure the sitemap option is checked "ON". Go To www.yourwebsite.com/sitemap_index.xml to see your Yoast-generated sitemap.
Once you have an XML sitemap you can validate your sitemap from Sitemap Validator
Sign up for Google Search Console
Signing up with Google Search Console (formerly Google webmaster tools) is very important. It helps you with some great insight into indexation, crawling, your site's health status, and other useful metrics.
Signup for Google Search Console and look for everything out there to understand the things available in the console dashboard.
Sign up for the Google Analytics tool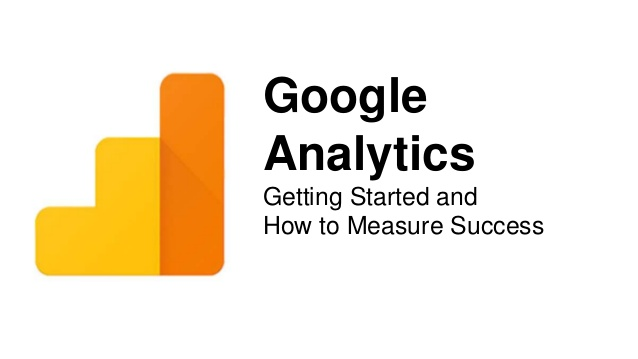 With the Google Analytics tool, you can analyze your website's visitors, metrics, and performance in detail. It is a free tool that provides sufficient insights to adjust your business or website to make it a success.
Signup for Google Analytics now and start tracking your visitors and performance.
There are some other alternatives to Google Analytics for WordPress.
MonsterInsight
ExactMetrics
Jetpack
You may also want to read: How To Add Google Analytics To WordPress Without Using Plugin
Make sure your website is indexable.

You can allow Google bots to index your site or restrict them from indexing your whole site. Make sure your indexing is enabled. This is a small setting in your dashboard. 
Go to dashboard—setting—reading.
Make sure the search engine visibility option is unchecked.
Improve Your Site Speed
Speed matters when you are on the internet. A site with a low loading speed means a higher bounce rate, lower conversions, and low search rankings. When your website loads too slowly, the audience loses patience and leaves your website to find a better-performing website that is just a click away. 
But, Worry not.
Fortunately, WordPress offers plenty of ways to make your website load faster by optimizing the speed.
The best ways to optimize speed for your WordPress website are by:
Using speed optimization plugins like WProcket, WP fastest cache, WP Minify, WP SuperCache, Lazy Load, etc.
Selecting a high-quality hosting plan
Making sure the plugins and themes are up to date.
Optimizing media files
Using a CDN service
You can audit the current speed performance of your website using one of the following SEO tools. These tools are great to help you know how your site is performing, what things need improvements, and what also they provide you with a recommended solution to make your website faster and better.
Pingdom Speed Tool
GtMetrix
Recommended reading: how to speed up your website
Frequently Asked Question
Is on-page SEO important for a WordPress Website?
Yes, On-site or On-page SEO is very important to make sure your website is free from potential errors that can prevent search engines to access and crawl your site. On-page SEO helps your website improve visibility in search engines like Google.
Does this step by step WordPress SEO guide works for all WordPress website?
Obviously, The steps explained above works excellent for all kind of WordPress sites and blogs.
Can I increase my visitors by doing WordPress SEO?
SEO improves the visibility and ranking of a website. By performing SEO on your WordPress website you can drastically improve ranking and visibility in the organic search results. Being on the top position gives added advantage to attract more visitors to your site.
How long does it take to see result from WordPress SEO?
SEO is never a quick jump. It takes hard work, patience, and a long term commitment. However, doing SEO can often give an instant boost to your website's performance that can be seen within weeks. Usually, getting a result from SEO takes a few months, depending upon your website's authority and your competition level.
Wrapping up the WordPress SEO Guide
It is always difficult to come up with a perfect SEO strategy. Every website is different than the other. But, the checklists described above are applicable to any WordPress site and blog in general.
Try this SEO checklist and see if it makes any difference to your WordPress Website. If you have worked on this SEO stuff at some point in time, feel free to share your experience with WordPress SEO and remember to mention any important checklist that might have missed in the post😎
You may also want to read: