Our first point of reference when it comes to website design on WordPress is the theme being used. WordPress themes, put simply, make website design less arduous for site owners.
Generally, developers have to work with designers to craft every element of a website. This naturally takes a lot of time and manhours.
WordPress themes make the entire process simple and effortless. You can choose a free theme or purchase a premium package from ThemeForest. With this, you can simply start building a WordPress website with a built-in design layout. All you need to do is customize a pre-packaged layout with your branding and copy.
Sounds good, right?
It is, in fact, good. All you need to do is find a reliable theme that won't harm your website's performance.
As website development becomes simpler, the focus of website owners and businesses turns to other verticals. More specifically, mobile apps.
Apps are no longer a 'trend'. As more people consume information through smartphones, apps keep becoming more relevant. Businesses with a mobile app on the app stores have a better shot at reaching important markets.
For instance, mobile apps are now preferred by consumers for shopping compared to mobile websites according to an Econsultancy report.
The challenge in front of businesses is not just creating an app. It is also important to know how to make an app that matches the theme and tone of the website.
In other words, both development and brand consistency are necessary when it comes to launching an app.
In this article, we will discuss why your mobile app should look more like your WordPress theme. But first, let's understand how to build an app and match its design with your website's aesthetics.
How to create an app – A simple solution for WordPress site owners
Is app development difficult?

Yes, unlike developing a website that can be accomplished with CMS platforms like WordPress, app development is not as simple.
Whether it's the cost involved, the time needed, or the overall complexity, developing an app is a major challenge.
WordPress website owners can however opt for simpler solutions. Using DIY app makers is a great way for WordPress users to create an app without the fuss of coding.
To explain, let's take AppMySite as an example. It is a platform that allows WordPress site owners to create an app and publish it on the app stores.
The following points explain how to create a mobile app using a WordPress site. First, make sure you create an account on AppMySite:
After signing up, design the essential assets and screens of your app. This includes your icon, splash screen, login & signup pages, and home screen. You can also create a color theme that is replicated across the app.
Connect your WordPress site to the app you're building. This step basically populates the app with your website's content. You can accomplish this by downloading the AppMySite plugin on your website and completing a few other steps. Completing this step also ensures any change on your website is reflected back on the app instantly.
Next, change your app settings based on your preferences. This includes some of the basic settings related to your app info, and more crucially, options to enable webviews, bottom navigation, and more.
Once all your preferred settings are made, preview the app. In a separate Preview module, you can see how your app looks and works in both Android and iOS device emulators.
Lastly, you can download your app from AppMySite. While downloading the app, you can choose to enable additional features like push notifications, social login, and app monetization. Once you download the app files, you can proceed to submission to the app stores.
Why is it important to harmonize your website and app design?
Now that we have a simple way to build an app, let's consider syncing your website and app design.
There are many reasons your website and app should have a similar tone and design. The points covered in the following section cover some of them in detail.
1: Brand consistency
There are an array of websites that have mobile apps in the market. One thing you may have noticed is that the color scheme and layout followed in the website are also replicated in the app.
Facebook is an obvious example. The blue and white color scheme that's synonymous with the platform is consistent on all its online properties. You can probably think of any other prominent platform, and it would probably have a harmonious design scheme on both its website and app.
There is an undeniable focus on making sure that there's coherence between website and app design.
What's behind this design principle? One obvious reason is maintaining an obvious level of design consistency.
Let's assume you visit a website where a yellow and white color theme is prominent. You like the website and then proceed to download its mobile app.
The app then has a red and blue color scheme. Would this clash of themes not jar your entire experience? For a moment, you may be forgiven for thinking that you've downloaded the wrong app.
According to a Reboot report, choosing a significant color can improve brand recognition by 80% Now think of the kind of dissonance you can create by using different colors for both your website and app.
Consistency is crucial. As brands become more omnichannel in their approach to online marketing, it is crucial to maintain a certain threshold of familiarity.
So why should your app look more like your website? This is one big reason why. The goal is to make app users relate to your brand, whether they visit your website or app. Consistency in messaging and design makes this process easier.
2: Better usability
Using any platform involves some kind of a learning curve, whether it's a simple online store or a complex cloud platform. Another reason brands maintain a similar design on both websites and apps is to make usability easier.
People who've used your website shouldn't ideally take a lot of time to understand your app. Companies generally hire UX researchers to ensure users have a smooth experience while using both websites and apps. One of the main mandates they have is ensuring there is consistency in usage on both websites and apps.
Let's take an example and assume you have a food delivery website. Customers on your site are used to placing orders without needing to log in or signup to the website.
If you make an app for your food delivery website, it makes sense to offer the same features again. This includes allowing customers to checkout without signing up.
Design is not just about how your app and website look. General experience and user journeys are also crucial to creating a functional design.
Your app's functionality should ideally be modeled on how your website works. This is something we notice in all the prominent apps and websites. Ordering products on the Amazon website and app is similar in many ways.
The added advantage to creating similar user journeys is shortening the learning curve needed to start using the app. Ideally, a website user should feel comfortable using your app almost immediately. If you model your app's design and experience around that of your website, your users should be able to use both interchangeably.
3: Creating brand reliability and trust
We've discussed how similarity in your app and website design is ideal from a user experience standpoint. Another reason this is important is establishing brand identity and trust.
As covered earlier, if your app is very different from your website in terms of design, you may create an unwanted dissonance in the minds of your customers. This is bad if you wish to establish trust and reliability for your brand.
Let's take an example and assume your website's main color theme is black and white. If your app's color theme is red and blue, your users will find it difficult to nail down your brand identity.
This dissonance will eventually lead to app churn as users won't be able to draw a straight line between your website and the app.
In the short term, brand reliability may not seem like a big deal. As your website grows, you would discover that acquiring new customers is more expensive than retaining existing ones.
Retention is thus crucial in the long run. Creating confusion and uncertainty amongst app users is not a good idea. Every asset of your business, from the brand logo to the website and the app should represent cohesion in appeal.
It is thus vital from a brand reliability perspective that your app's appearance matches that of your website.
4: Ease of management
Design is not easy. It takes a typical design team many weeks to design a website. The same is true for app design.
Now think about the length of the process when we design the app separately. It takes a much longer time if you decide to take a whole different approach to design your app. Your team will have to settle on a new color scheme, take a call on user journeys, and decide the layout of every app screen.
This is not a desirable solution. And yet, many companies try to create a new design strategy for their apps.
The easier option, and the better one, is to replicate your website's core design in the app. Some level of change is natural and encouraged. After all, websites and apps are different. However, you should retain the existing design of your website in the app too.
This also makes app management easier. Since the design and usability of your website and app are similar, you can easily manage the app as you maintain your website.
Using a codeless app-making platform that connects directly to your website makes a lot of sense if we consider this point. Website-based app makers populate your app with website data. This means you can manage your app data unilaterally from the website.
Having similar designs for your website and app can thus make overall management easy and painless. You can focus more on growing your audience instead of worrying about maintenance at every stage.
How to harmonize your website and app design?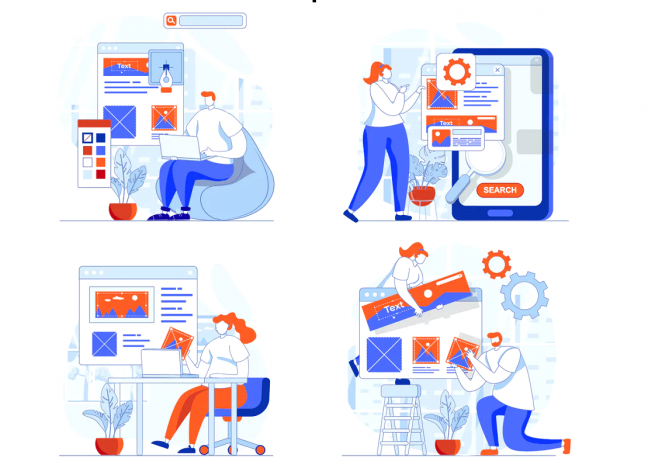 We've already covered how to create an app and why it's important to match it with your website's appearance and design.
The next question is how you can accomplish this.
Doing this with custom-built apps can be a major challenge as you need to take care of every app element manually. If you follow the process described in the previous section to create an app with AppMySite, matching your website and app design is easier.
The following points cover how to match your website and app appearance:
Set the same color theme: AppMySite allows you to set a color for your header and buttons. Your choice should ideally reflect the color theme of your website.
Sync your website content to the app: Once you connect your website, your app will be populated with content from your website. This will add another layer of similarity between your website and the app.
Webviews: In case there are some app screens that you'd like to show your mobile website for, you can choose to enable webviews. This will render your mobile site in the app.
Add a bottom menu: Show a bottom menu in your app that is similar to your website's header menu to make navigation similar and easy.
Sync your website menu: You can also sync a menu from your WordPress website to the app.
Custom design app assets: You can upload your own design for key app screens and assets like icon, launch screen, login & signup screens, and home screen banner.
With these steps, your app should look and work like your website. Since the app is built with a native interface, it will perform seamlessly.
In conclusion
Design is a crucial part of developing both websites and apps. While we generally view website and app design separately, there are more incentives to maintain a level of similarity between both.
There are many challenges along the way. First, you need to find a simple app development solution. Next, you have to take the steps needed to sync the design of your app and website.
In this article, we discuss why it's important to create coherence between your website and app design. You can follow the points made here to create an app that syncs with your website.