Best free construction WordPress theme–
Product Review in detail
WordPress is an open-source content management software that is free to install, deploy, and upgrade.
According to W3techs, WordPress has 61.8% of the CMS market share
WordPress alone powers 35% of websites on the web. With thousands of themes and plugins, you can create any kind of website or blog with low development costs and time.
Themes are the core part of any website. Themes play a key role in powering websites from zero to hero.
In this article, we are putting light on a WordPress construction theme that can be very handy for any business that is under construction and engineering niche.
The theme we are going to have a look at is " construction light".
Construction light is a free and versatile construction WordPress theme applicable to a variety of construction companies and businesses.
This multipurpose theme is more than just a construction theme as you can use this theme to fit and business niche.
The theme is fully compatible with most construction-related businesses such as
Contractors
Architectural
Renovation
Property dealers
Infrastructure
Roofing
Builders
Plumbing and many more.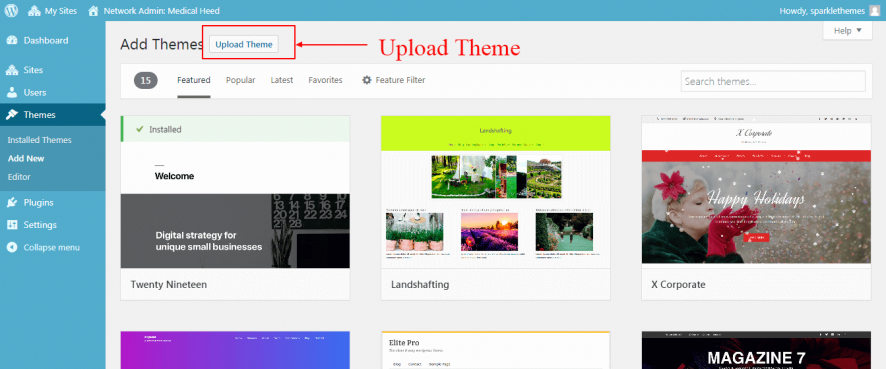 If you are looking for a beautiful, easy-to-use website for your construction and engineering business then "construction light" is a perfect choice.
Construction light by Sparkle Themes is already used by 4000+ business websites and has been on the go since its lunch.
This theme allows you to create an impressive landing page to attract your prospects and help them easily turn to the leads.
What makes construction light a perfect theme for the construction portfolio websites:
Construction light is free and easy to use
Construction light is free and easy to use WordPress theme.
You can create a visually appealing and full functional dynamic website for your business in Zero cost using this theme.
Construction light is available with tons of features that will give a quick kickstart without having to spend hours in development and design tasks.
Many free themes lack or have restrictions over their free theme usage. But construction light in the free version gives you all the necessary and advance features to make customization easy and effective.
The fast and reliable support and maintenance team are rare in any theme. The support team for the construction light theme is very likely to set out for any kind of help regarding theme installation, fixing bugs, and answering technical questions.
Setup your website with a single click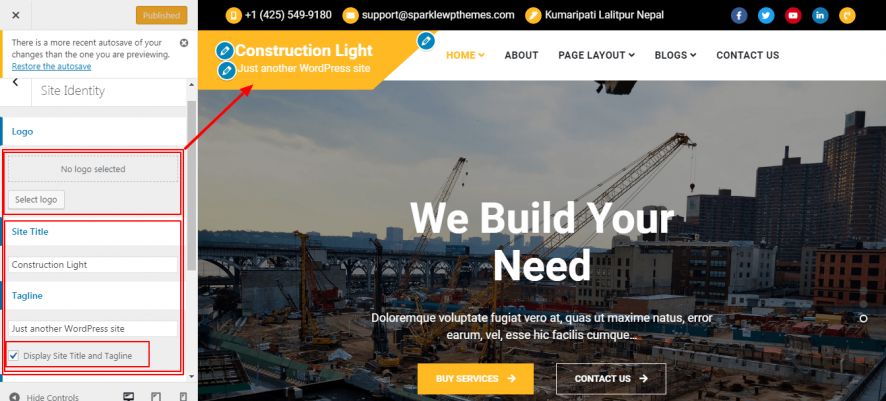 With most of the themes, users struggle with documentation and installation details.
We have made our installation process as simple as a pie by enabling the demo import feature.
Just with a single click, you can get your website completely ready for lunch. Simply edit the content and you are done.
You can import all the images, text, and settings from the demo of the Construction light WordPress theme to keep get going. This way you can spend more time on your venture than on setting up your website technicalities.
Construction light is
a user-friendly theme
Construction light is a user-friendly theme that comes with an extensive documentation guide along with specialized instruction to set up your website with a focus on the best user experience.
The theme has an excellent interface on the form tends and easy to use content management system on the back end.
You can easily change the design of the theme to suit your brand and business from the back end without having to write a single line of code.
Creative, powerful, and dynami
c WordPress theme
With a fresh and stunning, eye-catching design construction light can make an instant impression in the visitors.
A clean, effortless, and straightforward layout will help you grab the customer's attention. This free construction theme avoids unnecessary extras, so your website looks neat and alluring with a very minimal functional design.
All the inner pages are clean, easy to use, and equally attractive. Also, with the perfect font properties, this makes your content accessible and engaging.
Fully customizabl
e theme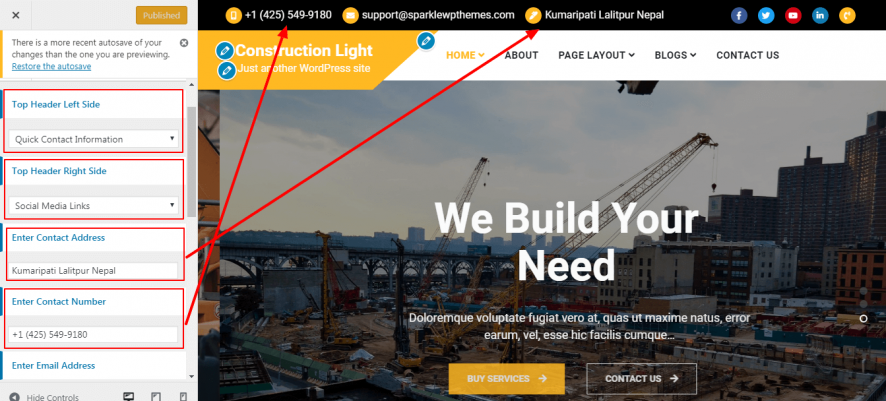 Construction light is easily customized using custom CSS codes to fit your needs.
The theme gives you the facility to add and manage widgets as your wish without comprising the design of the website.
Easily add and manage CSS animation form the customizer, modify the effects and color composition of your website and with a clean coding approach you can easily you can manage and extend the code of the theme without any problem.
Compatible with all plugins
Construction light is exceptionally compatible with almost all the WordPress plugins. Easy to integrate plugins like WooCommerce, Elementor, Gutenberg editor, and more.
You can use any plugin that suits your need and create a custom design or functionality. You are never restricted to a default design.
F
its on all screen size
Construction light is a mobile-friendly and fully responsive WordPress theme that fits all the screen sizes. After Google announced the mobile-first approach, responsive websites are on demand.
According to Techjury" 51% of the time spent online in the US is on mobile devices", so you should never take the responsive feature of a website as an option. Construction light automatically adjusts to the screen size and display flexible resolution dynamics.
Your website with our theme looks flawless on every device, and your business website can influence a wide range of audience with the user-friendly design.
loads like a rocket
Speed is the key factor when it comes to a business website. You should be probably out of your customer's list if your site does not load in less than 5 seconds.
People behave terribly with slow loading and laggy websites.
Everybody likes accessing a fast loading website with the quick response time. If you go slow, the audience will not wait for you, instead, they turn to your competitors.
Speed is an essential factor to convert a first time visitor to your loyal audience and convert them into potential prospects.
The Construction light theme is highly optimized for Search engines like Google. with special attention to speed and performance, the theme loads pretty quick to give an awesome user experience.
In terms of speed and performance, Websites built with construction light WordPress themes are one step ahead in the competition.
Still, using internet explorer? No problem
Website visitors use dynamic platforms for surfing the internet. Your website must give the same full functional performance in all visitors' devices as well as in all browsers.
Construction light WordPress theme is fully compatible with the latest version of Chrome, Mozilla Firefox, Edge, and Safari. It looks and performs great on all major browsers.
Construction light is loved by Google bots
SERP position is a crucial factor for any online business. construction light is well optimized for ranking in search results.
From best coding practice to navigation and from schema markup to design functionality, construction light is perfectly optimized.
Let's look at some of the best practices for adopted in construction light.
Asynchronous/deferred JavaScript
Javascript and CSS minified
Responsive image sizes
Unused functions removed from the front-end code
Theme content crawlable
Schema markup included
Properly paginated
Metadata included
Best free construction WordPress theme-FAQ
What is the area of applications for construction Light WordPress theme
Construction light is a free construction WordPress theme. It is a multipurpose theme thus can be used in any other business and purpose.
Along with different fields of construction, this theme can be used in different areas like construction companies, builders' websites, interior design agencies, architects, plumbers, packers and movers, landscapers and more
Is this theme completely free?
Construction light is a 100% free WordPress theme. You can easily download and use this theme without any amount required. You might think of limitations on having a free theme.
But make sure there are no hidden limitations with this theme. Without any charge, you can create an awesome construction website.
What are the major customization options?
Construction light is a highly customizable WordPress theme. Even in its free version you can create the website with full control.
You can change the background color, font options choose your own background image, change the logo, add font awesome icons, and create site title.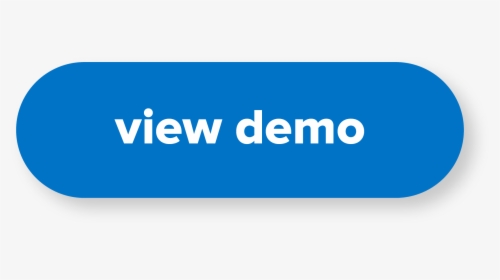 You can add widgets on the right sidebar, enable breadcrumb, create a menu, name menu items, change copyright info, and many more customization.
Does this theme have custom widgets?
Basically, this theme has four custom widgets: 1. Features posts 2. Popular Posts 3. Recent posts 4. Social links. You can add these widgets wherever you want.
Are there external page builder plugins?
No, this theme doesn't support external page builders. You can't use the drag and drop site builders like Elementor or visual editor.
Can I change the color and font of my website?
Construction light gives you unlimited customization options in terms of color.
There are numerous color options for the background. Similarly, this theme supports 600 plus google fonts for primary fonts.