You designed a WordPress website for your business. You send the link to friends and relatives.
'I've seen a similar website,' replies one of your friends. He sends you the link to a website that looks identical to yours. How?
Business owners use the same theme and pre-existing templates to create a website. Avoid the scenario with WordPress drag and drop page builders.
In the next five minutes, learn about the best drag and drop page builders for WordPress.
Elementor
With over 5 million active installations at the time of writing, Elementor stands out as one of the best drag and drop builders for WordPress. The plugin supports WordPress 5.0 and higher versions.
Choose the free version or pay $49 a year to access the premium one for one website.
Features
Design your website with over 100 templates to showcase your products or services.
More than 300 blocks or pre-designed section templates offer you complete control. The section templates include a call to action (CTA), services, and testimonials.
Over 90 widgets allows you to customize each section of your website.
A single-page website. An e-commerce store. A portfolio website. Build it all with Elementor.
Edit the site on live mode. Never go to preview mode to see how your editing looks like.
Want to showcase a page that's under construction? Use the in-built maintenance mode.
Made an error while editing? Check the revision history and correct the error.
Test page layouts in mobile view. You'll know how your site looks on mobile even when you open it on your laptop.
Want an aesthetically pleasing website? Use designer touch features including Background Overlays, Hover Effects, and Box Shadows.
Having trouble using the page builder? Learn from the over 300 tutorials, courses, and webinars.
Divi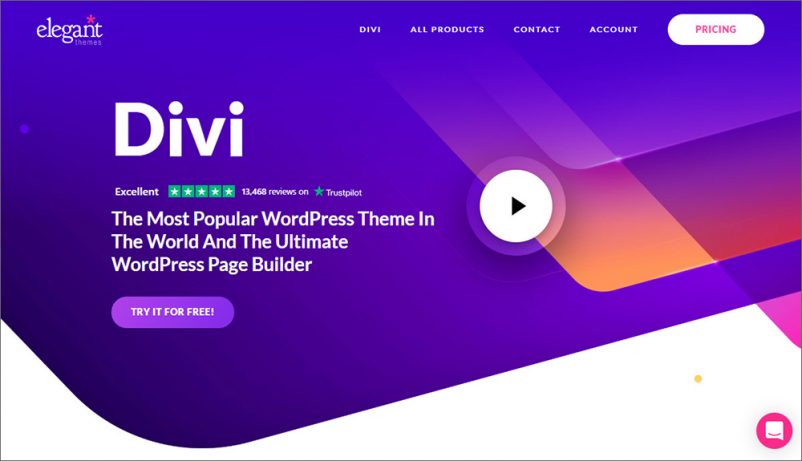 Over 750,000 people built their websites with Divi at the time of writing. The website builder is at the core of the Divi WordPress theme. Furthermore, the plugin supports every WordPress theme as well.
Design your website with 46 content elements including galleries, blogs, and forms.
You need to pay $89 a year to use the drag and drop page builder.
Features
Showcase your products or services with more than 800 pre-existing designs. Furthermore, you can use illustrations, royalty-free images, and icons as well.
Over 40 website elements allow you to add sliders, call to actions, forms, and testimonials.
Edit your website in real-time. You won't have to go into preview mode to see the changes.
Build and save a new layout. You can export or import your Divi layouts to other Divi powered sites too.
Made an error and can't fix it? Go back to a previous version of the website.
The Advanced Code Editing feature offers error reporting, color picking, and syntax highlighting.
Embed videos in a rotating carousel with the video slider. Visitors won't need to scroll a long list to watch all the videos.
The audio player module allows you to embed audio clips on your webpage.
The mobile-responsive themes make sure mobile users won't have trouble navigating your site. Furthermore, you can customize the website design on computers, smartphones, and tablets.
Choose from over 100 fonts. Change the text size, font weights, and text styling.
The Divi code module allows you to add any custom code to the content elements.
Add filters and effects including saturation, hue, blur, and invert. Furthermore, you can use background blend modes as well
Beaver
Prefer a page builder that helps you to design stunning landing pages? Choose Beaver.
The page builder offers over 30 landing page templates. Edit the pre-existing content and your customized landing page is ready.
Familiarize yourself with the page builder with the in-built onboarding tour. Furthermore, you can use the Beaver Builder Lite to test out the features.
The page builder offers three pricing plans. The price ranges from $99 to $399.
Features
Preview edits in real-time with the front-end visual editor.
Build unlimited websites with one license.
The mobile-responsive site loads within three seconds. Never worry about any visitor leaving your site because it's slow.
The themes are SEO-friendly. Thus, your website ranks better on search engines.
Made an error and can't fix it? Beaver builds allows you to return to past versions of the website.
Add contact forms through shortcodes and widgets.
Add background, sliders, and carousel with the pre-existing modules.
Use a customized template on new pages you create.
The Themer add-on allows you to create search and 404 pages. Furthermore, you can create layouts for archives pages as well.
Use Field connections to connect the layouts to the data inside templates.
Edit the heading or slug of a page or post without going to the admin area with the in-built Assistant plugin.
The page builder is compatible with popular themes and plugins including Page Builder Framework, Astra, and Genesis.
Stuck on an issue? Ask for help on the Community Forum, Slack group, or Facebook group.
Brizy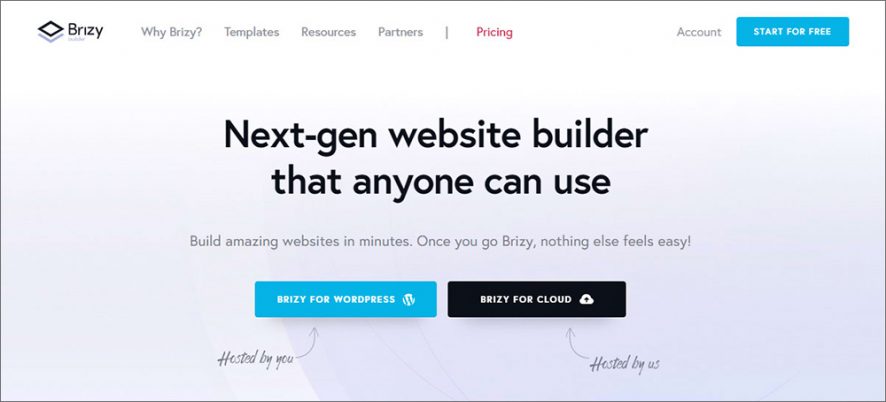 Prefer a drag and drop page builder which offers premium features for free? Use Brizy.
One of the top WordPress page builders, Brizy offers forms, tabs, and sliders for free. No other page builder on the list offers the same features for free.
Furthermore, you can buy the pro version for $49 a year.
Features
Over 400 pre-existing designs to showcase your products and services.
Preview every edit in real-time with the visual editor.
Global blocks allow you to edit one section and apply it to the entire website.
Animation within the blocks results in an eye-catching website visitors love.
Prefer a video background? Brizy allows you to use videos from YouTube or Vimeo.
Apply Box Shadows to elements including rows and columns.
Global Styling allows you to change every text and color on a page with a single click.
Brizy page builder supports custom field plugins.
Themify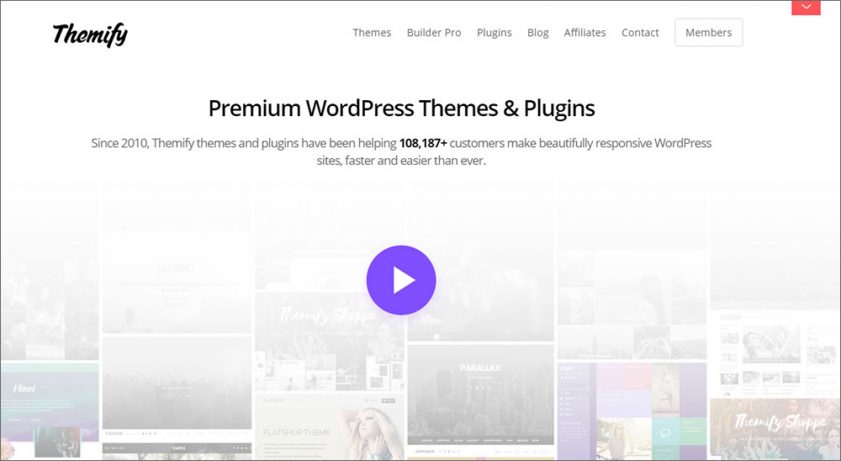 Developed by Themify, the Themify page builder is one of the best drag and drop page builders.
The page builder allows you to edit on both the front-end and back-end. Furthermore, you can see the edits in real-time with a live preview feature.
Themify page builder is free. Furthermore, you can buy the addon bundle for $39.
Features
Over 40 pre-existing designs to showcase your products and services. Edit the content and images and your landing page is ready.
Undo and redo features offer you complete control over any change you make.
The page builder allows you to import a row or module. Furthermore, you can copy and paste rows and modules from one page to another.
More than 60 animation effects create an eye-catching website.
Custom Styling allows you to change theme color, font, background, and spacing.
Each content is SEO-friendly and allows the website to rank better on search results.
Install WooCommerce and sell your products online.
Create sliders with animation effects and transition with Slider Pro.
Image Pro allows you to beautify images with color and image overlay and image filters.
Which drag and drop page builder for WordPress should you choose?