The long wait for the Gutenberg editor is finally over; it's available right now on WordPress. Replacing the old TinyMCE editor, this one brings a whole new concept to making content using rich features.
Using the Gutenberg editor, you can divide your content into multiple blocks. You can add more or remove existing blocks that have your content at any time. To put it simply, the Gutenberg editor is much similar to a page builder that allows you to drag and drop all the different content blocks.
While we are on the subject of blocks, have in mind that the Gutenberg editor can provide you with numerous types of block types like quotes, columns, covers, images, headings, paragraphs, and many more. You can also edit the options of every different block individually.
One of Gutenberg's most remarkable features is that the developers can make personalized block plugins suitable for any content. These plugins can only serve to improve the Gutenberg editor's functionality and quality.
An excellent example of these plugins is the "Testimonials" feature that you can add. There is no limit to what these various plugins can do.
This post shows ten of the best block plugins for Gutenberg, plugins that improve the overall quality, and make sure that you get everything out of the Gutenberg editor.
The Gutenberg WordPress editor changes the way we view blocks when making content for WordPress. Unlike TinyMCE's classic approach to put all of the text into one unified box, Gutenberg has an individual block for each piece of content.
What's impressive about this is that it brings up opportunities that third-party developers are more than happy to take. It gives them the tools to make their own customized blocks, and you can utilize these same blocks with Gutenberg when creating any content.
Thanks to this potential, a good number of high-caliber Gutenberg plugins for blocks are already released.
Gutenberg Block Plugins – How Do They Work?
While Gutenberg block plugins are pretty straightforward to use, it's still good to talk about how they work because they are still relatively new, and chances are you aren't familiar with them yet.
Essentially, these plugins incorporate a so-called "plug and play model. As soon as installed, they are ready and optimal to use straight away. Start adding new blocks from the Gutenberg interface at your leisure.
Here are the top fourteen Gutenberg block plugins that introduce you to new ways to customize your content using blocks.
Give this post a good read so that you can get everything out of what the Gutenberg editor has to offer.
Ultimate Addons for Gutenberg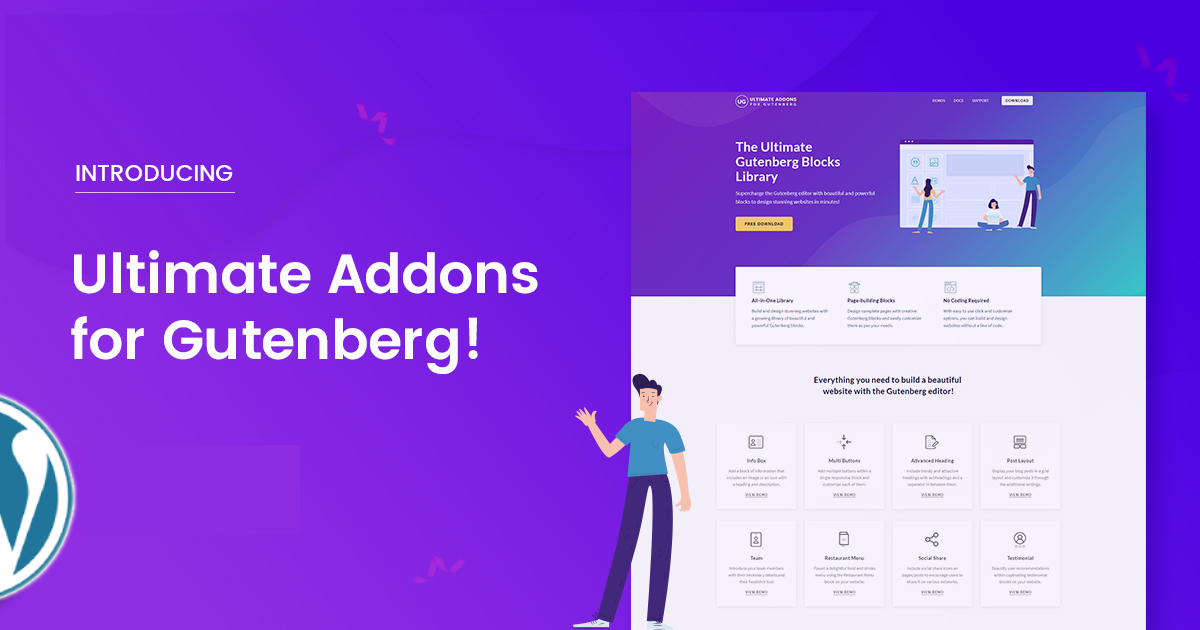 Known as one of the most renowned Gutenberg Block plugins across WordPress depository, we have Ultimate Addons for Gutenberg. Brought to you by the same people who gave you Ultimate Addons for Beaver Builder, Schema Pro, Astra Theme, Convert Pro, and Ultimate Addons for Elementor
This plugin collection adds a lot of new blocks to the already well equipped Gutenberg editor.
This plugin includes a total of seventeen blocks; they are the following:
Each of the blocks in the Ultimate Addons for Gutenberg plugin is one-of-a-kind and helps you make your website a wondrous sight to behold.
The plugin favors performance, and it is optimized correctly for it, which means your website will never be slow to perform. To top it all off, it's free as well!
Blocks included:
Section Block
Multi Buttons Block
Advanced Heading Block
Post Grid Block
Post Carousel Block
Post Masonry Block
Info Box Block
Google Map Block
Team Block
Content Timeline Block
Social Share Block
Testimonial Block
Icon List Block
Restaurant Menu Block
Post Timeline Block
Call To Action Block
Advanced Columns Block
Blockquote Block
Contact Form 7 Styler Block
Gravity Forms Styler Block
Marketing Buttons Block
Price List Block
Table of Contents Block
Atomic Blocks
Another popular addon in the Guneberg Block plugin collection is Atomic Blocks. Created by the people from Array Themes, it's a plugin full of different kinds of blocks that give you even more control over the Gutenberg editor.
The plugin feels great to use, and with the help of the blocks, you can create good-looking posts and pages. It's also compatible with any theme.
WP Engine recently acquired the plugin.
Currently, Atomic Blocks adds 11 new blocks, with more on the way:
Post grid
Container
Testimonial
Inline notice
Accordion
Share icons
Call-to-action
Customizable button
Spacer & divided
Author profile
Drop cap
Advanced Gutenberg
Brought to you by the good folks over at Joom United, this plugin is an excellent addition to Gutenberg that provides some cool Gutenberg blocks. Many of the blocks in this one are unique, and you can't find them in any of the other plugins on the list.
However, this plugin has more to offer than just blocks. Create custom profiles and then assign groups and users to them. Another great thing about it is that you can change the color of the Gutenberg icons. And last but not least, it allows you to apply custom CSS styles to the paragraph blocks.
In conclusion, this plugin provides you with so many awesome features, all for free. Use them to enhance further on Gutenberg editor's capabilities.
Blocks included:
Recent Posts Block
WooCommerce Products Block
Advanced Button Block
Contact Form Block
Advanced List Block
Map Block
Accordion Block
Tabs Block
Counter Block
Advanced Image Block
Advanced Table Block
Social Links Block
Advanced Video Block
Image Slider Block
Summary Block
Testimonial Block
Guteblock
Guteblocks gives you a nice collection of astonishing Gutenberg blocks. Use them to build yourself the perfect website, almost effortlessly. Guteblocks started with just a few blocks initially.
After some time, that number grew and reached thirty-four blocks, all available for free. Below you can read about what are the upcoming blocks coming soon to the free version of Guteblock.
The team behind Guteblocks is looking to release a premium version that will feature even more advanced blocks soon. Guteblock Pro will comprise blocks of the likes of Amazon Affiliate Link Block, Add Event to Calendar Block, Stripe Payment Block, Paypal Donation Block, Advanced Button Block, Quick Contact Block, and that's just the beginning.
The same team behind Guteblocks recently developed a new versatile blog and magazine theme for WordPress that can unleash Gutenberg Blocks' full potential. Guteblog Pro has nine cutting-edge designs for the layout, all suited for building the ideal blog or website. Included also are a few demos that help you set up your website in a matter of minutes.
Some of the popular blocks include:
Team Members Block
Testimonial Block
Container Block
Post Grid Block
Separator Block
Number Box Block
Drop Cap Block
Notification
CTA
Author Profile
Sharing Icons
Spacer and Divider Block
Kadence Blocks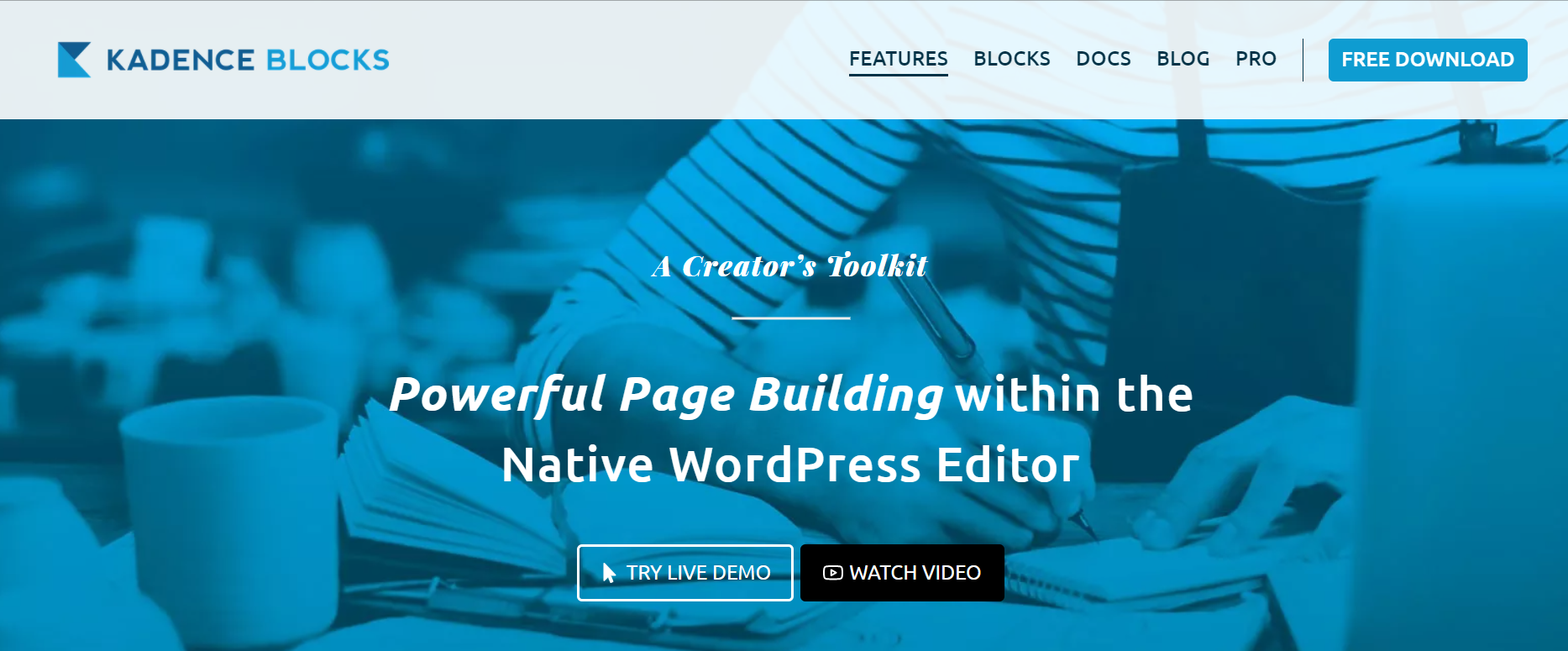 Until now, you've only seen Gutenberg block plugins that only increase the Gutenberg editor's number of blocks. What makes Kadence Blocks different from all the other plugins is that it enables you to design and customize layouts effortlessly. With this plugin, page builders are a thing of the past.
Every block from this plugin gives you control over your columns and allows for customization by background editing and gradient overlay addition.
Kadence Blocks is completely free and brings a new twist to the Gutenberg editor.
Some of the popular blocks include:
Row Layout Block
Tabs Block
Accordion Block
Icon List Block
Getwid
Getwid is composed of a rich library that includes content blocks for multiple purposes. You can use these blocks for any type of website, including landing pages, blogs, eCommerce, small business websites, or corporate sites.
The creator of this plugin is MotoPress. Their team is no stranger to the business; they have years worth of experience in making user-friendly page builders and tools for editing content in WordPress like, for example, the MotoPress Content Editor.
Getwid s also one of the rare few plugins that offer more than twenty-four free blocks for WordPress.
This plugin is compatible with every WordPress theme. That's because each individual Gutenberg block built by Getwid automatically adapts to the design of the theme you already use and systematically blends with everything else.
Some of the significant blocks include:
Section
Image Hotspot
Banner
Content Timeline
Sliders
Mailchimp Opt-in
Contact Form
Multiple options to display recent posts.
Editor Blocks for Gutenberg
One of the simpler Gutenberg block plugins, Editor Blocks for Gutenberg, gives us a special collection of blocks explicitly created to build beautiful pages.
The plugin creators have also made a Gutenberg Block Library in order to help its users choose whichever block they want.
You can get the plugin for free. The creators advise that you always use the "full width" template to go along with this plugin. They also made a theme customized specifically for this plugin, which you can get for free.
Some of the blocks include:
Hero Block
Pricing table
Team members
Wrapper block
Testimonial
Brands
ZeGuten
ZeGuten is a very affordable bundle of blocks and various layout options designed for the WordPress block editor.
Blocks currently in development worth mentioning are sticky columns, inline SVG, and a slider block.
When it comes to blocks for posts, you have five layouts to choose from, giving you a lot to work with.
Some of the most notable blocks are:
Post list
Section
Image comparison
Advanced map
Pricing table
Carousel
Team members
Testimonials
Otter Blocks
Next, we have Otter Blocks. Our own special iteration of a WordPress block plugin. It's a clutter-free and welcome addition to any site. Use it at will without a negative impact on your performance.
In addition to this, you can experiment with twelve unique blocks until you figure out what's the best fit for your website.
Otter Blocks is the perfect choice for any blogger and business owner alike who is on the lookout for features like services modules and pricing. That doesn't mean it isn't suitable for anyone else; on the contrary, Otter offers us blocks for general purposes that can help us build great pages and headings for any website type, all for the price of zero.
Some of the blocks included are:
Blocks included:
Section Block
Advanced Heading Block
Button Group
Service Block
Pricing Block
Testimonial Block
Google Maps Block
About Author Block
Post Grid Block
Font Awesome Block
Sharing Icons Block
Plugin Card Block
Orbit Fox
Another plugin of our own, Orbit Fox, has so much to offer. Firstly, this plugin includes twenty-two blocks, coming packed with numerous features and even more customization options. Moreover, also included with this plugin are other unique features, for example, a module for social sharing, Google Analytics integration, and a built-in Content Delivery Network (CDN)
You can use Orbit Fox for a multitude of reasons. It can come very in handy if you are on the lookout to find yourself some distinctive blocks. It offers you improved functionality that allows you to manage your website with more efficiency while enhancing its performance at the same time.
This plugin essentially replaces so many other plugins making them redundant to use, so feel free to replace them. No theme isn't compatible with Orbit Fox; everything you use will work flawlessly along with it, free of charge.
Blocks included:
About Author Block
Accordion Block
Pie Chart Block
Font Awesome Icons Block
Google Map Block
Notice Block
Plugin Card Block
Posts Grid Block
Pricing Table Block
Our Services Block
Sharing Icons Block
Testimonials Area Block
Click to Tweet Block
Advanced Heading Block
Section Block
Section Column Block
Button Group Block
Accordion Item Block
Testimonial Block
Pricing Block
Service Block
Premium Blocks for Gutenberg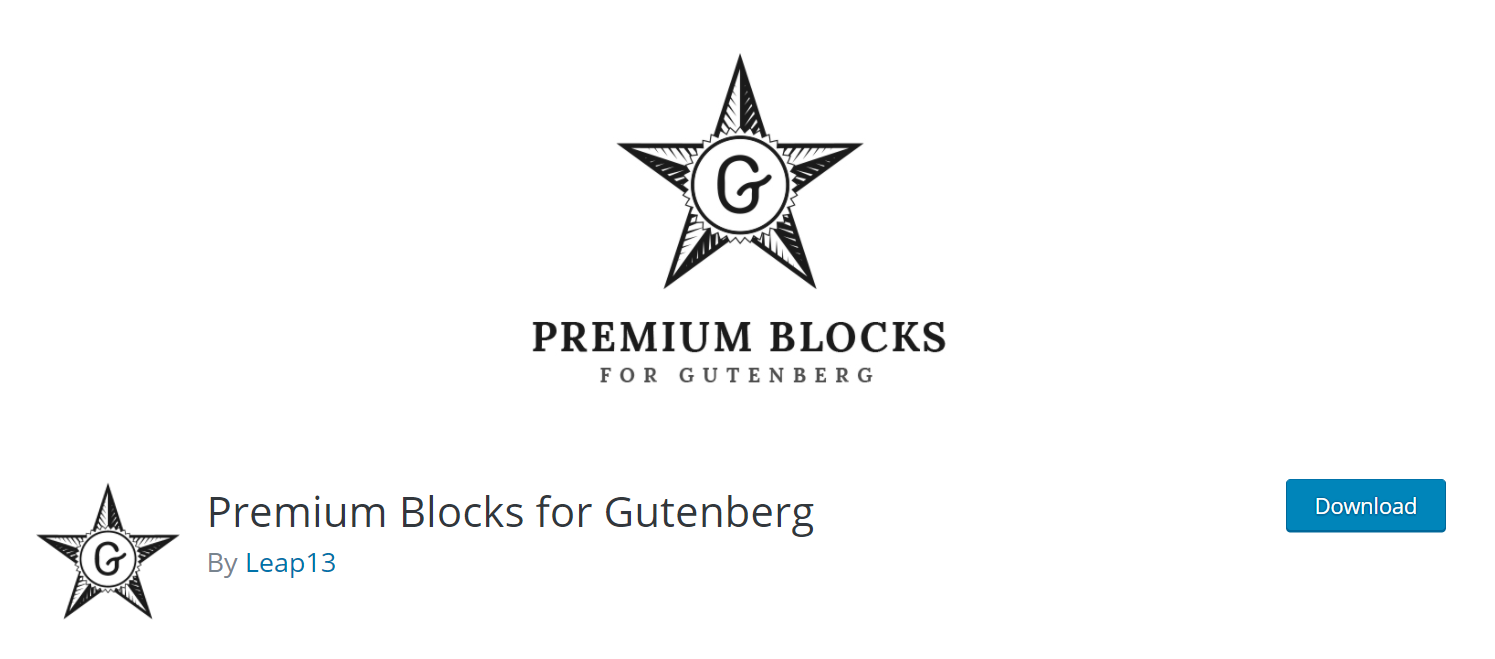 Don't let the name fool you; Premium Blocks for Gutenberg comes completely free of charge. It has 12 blocks to offer, all designed with website performance in mind.
If you find performance still lacking for some reason, you can disable the blocks that you have no intention of using so that you can even further optimize your speed.
All around, Premium Blocks for Gutenberg is a strong choice, offering you all the essential tools to work with like icons, pricing sections, and accordion tabs.
Without a doubt, one of the better plugins for WordPress available if you are looking for one that favors a light design and is also optimizable for the best performance and speed.
Blocks included:
Banner Block
Button Block
Counter Block
Dual Heading Block
Icon Block
Maps Block
Pricing Table Block
Section Block
Testimonials Block
Accordion Block
Icon Box Block
Video Box Block
Ultimate Blocks

Ultimate Blocks offers us a collection of eighteen Gutenberg blocks for free. Some of these blocks include the eccentric ones not featured in any of the other plugins.
One such unique block, the Review block that is schema-enabled, has the option to put in a review box that can include structured data in order to help you find rich snippets from Google Search. This block allows you to give ratings for different criteria and then combine all the ratings into one.
Also included is another separate block for star rating, usable by itself.
The Content Filter block is yet another distinct block that lets the visitor filter the content using the filter button located at the top, with no page reloading required.
Ultimate block plugin has currently 18 blocks:
Content Filter
Review (Schema Markup Enabled)
Table of Contents
Tabbed Content
Call to Action
Content Toggle (Accordion)
Feature Box
Notification Box
Number Box
Testimonial
Click to Tweet
Social Share
Countdown
Progress Bar
Star Rating
Image Slider
Button (Improved)
Divider
Qubely

Coming from Themeum is a feature-packed Gutenberg block plugin available in two versions, a free core one, and the premium version. You might remember Themeum as the team who brought you Tutor LMS WordPress plugin, a plugin for learning management that we recently reviewed.
Qubely is equipped with a wide array of diverse blocks and has an ever-growing collection that includes more than one hundred and fifty pre-built templates and sections that you can edit and import at your leisure.
Some of the blocks of Qubely are :
Some of the notable Qubely blocks are:
Row
Timeline
Post Grid
Accordion/Toggle
Advanced Text
Video Popup
Google Map
Progress Bar
Button
Testimonial
Heading
Counter
Tabs
Icon
Divider
Social Icons
Button Group
Button
Info Box
Advanced List
Contact Form
Icon List
Pricing
Block Wrapper
Team
Image
CoBlocks
Acquired by the well-known GoDaddy domain back in 2019 April, we have CoBlocks, a renowned collection of amazing Gutenberg blocks.
Its goal is to expand on the page building user experience and improve the block editor.
Coblocks has more than thirty-one layouts and blocks. The creators want to help you manage your layout and designs. That's why they added a flexible Column and Row block. Also included with those are the Dynamic Separator and Shape Divider blocks so that you split things with ease.
Lastly, they added a Typography Control Panel that is compatible with both the default blocks for WordPress and CoBlocks, letting you control the typography flawlessly.
Some of the popular blocks include:
Author Profile
Food & Drinks
Form
Hero
Logos & Badges
Post Carousel
Pricing Table
Services
WordPress Block Plugins– Conclusion
Whichever of these plugins for WordPress you decide to go with, it's easy to start using the blocks.
Once installed and activated, the chosen plugins will give you an accordion section.
If for some reason you don't see the section, search for the blocks by their names.
You should remember that even by itself, the WordPress Block Editor is very handy. The block-based systems serve to only improve upon it, offering you endless expansion, creativity, and possibilities. Each of these blocks that you read about can be of great help when creating unique and fluid content to add to your website.
The article is contributed by Gaurav Upreti. Gaurav is a seasoned freelance digital marketer with a passion for sharing insights on digital marketing, WordPress, and business strategies. He frequently contributes to various websites and blogs, demonstrating his expertise in these domains. When he's not writing for others, you can find him on his personal blog, marketing-optimist.com.