Introduction
What is Schema Markup?
Benefits of Adding Schema Markup to Your Site
How to Add Schema Markup to WordPress
Test Your Schema Markup
Conclusion
SEO Title: How to Easily Add Schema Markup to WordPress Site
Focus Keyword: Schema Markup
SEO Description: Learn how to add Schema Markup on your site and easily get ahead of the competition by improving the click-through rates.
Introduction
Do you want to add schema markup to WordPress without any hassle?
Schema markup allows you to give search engines crucial information that they can utilize to improve your listing in the search results.
Search engines use Schema markup to identify how to index your content appropriately. This can help your website avoid showing up in SERPs for searches that aren't relevant to it. This is one approach to improve the amount of high-quality traffic to your website.
The number and type of visitors you receive are directly proportional to how your website looks in search results. As a result, it's crucial to seek ways to improve how search engines distribute information.
We'll look at what Schema markup is, how to use it on your WordPress site, the benefits of adding a Schema markup, and much more. Let's get started!
What is a Schema Markup?
Schema markup is a type of HTML code that you may use to tell search engines more about your content on your WordPress website. In simple words, Schema markup is inserted into the HTML of your website's pages. It offers individual elements additional attributes, such as the type of information they contain and the context in which they exist.
Consider the case when you mention the name "Snow White" in your page's text. The schema markup informs the search engines what the data exactly means: is it the author's name or a fictional character from a show?
You can also tell search engines that a page is a blog post, a recipe, a FAQ, a newspaper article, or a product page in your online store. This information can then be used by search engines to display rich results.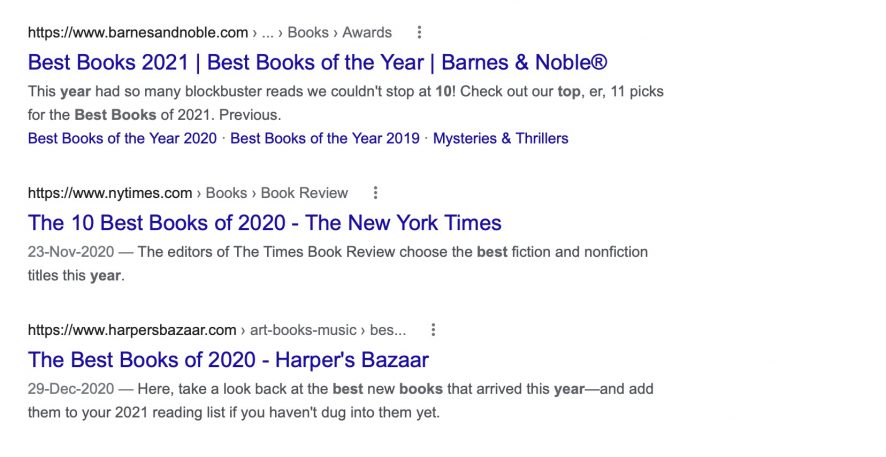 On SERPs, Schema metadata is also displayed beneath your headlines. This informs searchers about how your content can help them find the information they need.
Benefits of Adding Schema Markup To Your Site
1. Schema Markup Provides Additional Information
Schema.org is a project supported by Google, Microsoft, Yahoo, and Yandex, four of the world's largest search engines. They've agreed on a set of data tags that will allow users to add more information to their content. You may considerably improve the appearance of your pages in search results by including them in your HTML.
If you use Schema markup on your WordPress site, the search engines can determine additional information such as whether your site is for an individual or an organization, as well as what kind of content is present on your pages.
2. Schema Markup Improves SEO of Your Site
Rich snippets are an excellent addition to any SEO strategy. They don't help with organic search rankings, but they do aid with traffic creation by raising click-through rates.
Doesn't that make sense? Users gain access to more relevant data, such as how other people rank a recipe or product, which influences their decision to click on a search result. Schema markups are another approach to stand out in the SERPs and get more hits without trying to increase your ranking.
Simultaneously, with additional clicks, you may be able to progress upward over time. In this way, Schema markup can indirectly aid organic traffic.
How to Add Schema Markup to WordPress
Using Rank Math for WordPress is the simplest approach to add Schema markup to your WordPress site. It's the greatest WordPress SEO plugin on the market, and it makes adding Schema markup to your site a breeze.
To begin with, you need to install and activate the Rank Math plugin on your site. Once the plugin is installed, activate the Schema module from Rank Math > Dashboard > Modules as shown below: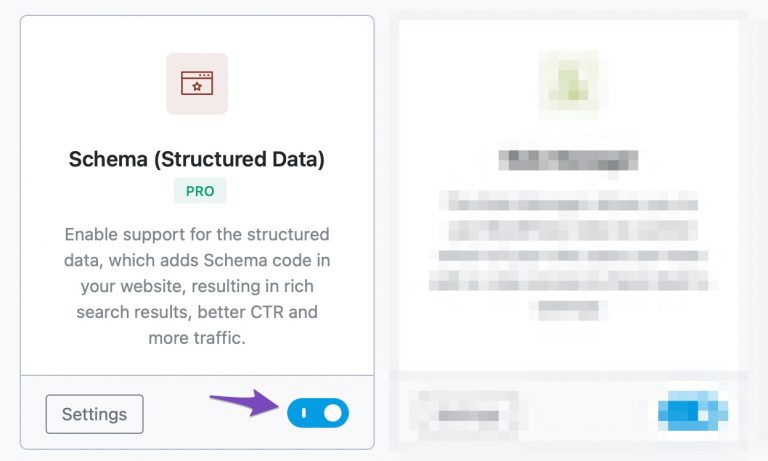 You can then set the default Schema for your website by navigating to Rank Math > Titles & Meta as shown below:
From the Titles & Meta page, you can easily set the default Schema for your posts, pages as well as custom post types.
You can now start adding Schema to your posts/pages. To do so, navigate to your post. Open up Rank Math by clicking the Rank Math icon which is present on the WordPress menu as shown below: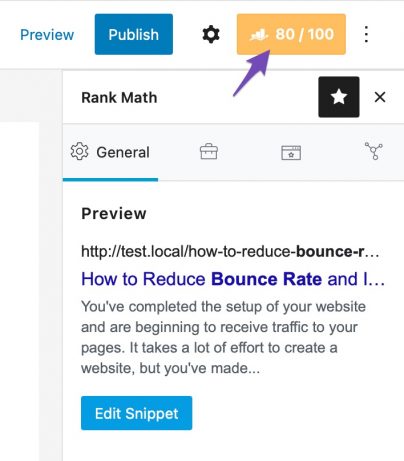 Navigate to the Schema tab and click on Schema Generator. You'll find the different Schema types supported by Rank Math. You can then choose the Schema type of your choice as shown: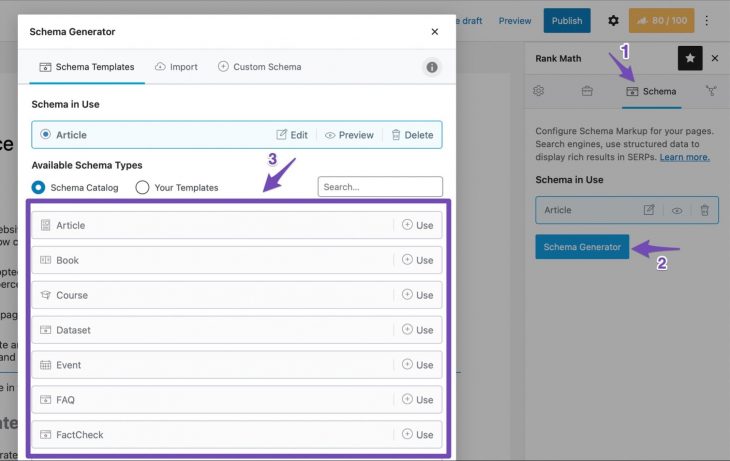 For instance, to select the Course Schema type click on Use, fill in the required details for the Course Schema type, and click on Save for this Post.
And that's it! The Schema type will be added to your post.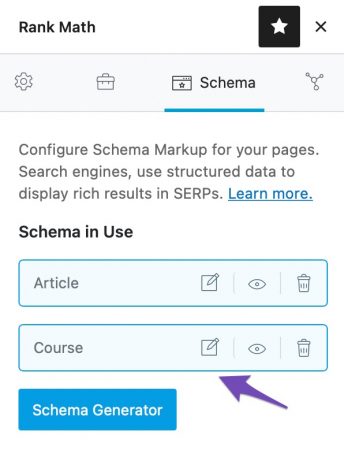 Test Your Schema Markup
All that's left now is to test your markup after it's been implemented. Google has their own Google Rich Results Testing Tool for this.
Simply insert your code or enter the URL of a page you want to check. The tool will then display all of the data it was able to retrieve as well as any mistakes it came across.
Conclusion
Using Schema markup is a good approach to increase the click-through rate of your web pages. It may appear intimidating at first, but it is not all that difficult to implement. Your users will thank you for making their lives easier and, ideally, will visit your site more frequently.
Is your website employing Schema markup? What was your experience with it and how did you implement it? Please share your thoughts in the comments box below.