Digitalization is moving faster than we think! Construction companies are now available to their customers online. This is something we never thought would happen a few years back. Currently, there are thousands of builder's website templates that can help these companies kick-start the perfect way and with the perfect WordPress theme!
Construction or building construction refers to the structural and technical part of erected homes, schools, companies, and all types of building at large. The level of importance of construction buildings in the country is very high.
Over and above that, building construction forms a large percentage of any nation's economic sector. In other words, if the level of building construction of a nation is poor, it would certainly delimit the nation's economic growth.
Construction goes way back to antecedent times. At this time, individuals associated with building construction are usually left with on-site's construction. Therefore, no internet connection to mark their services, online advertisement was impossible, etc.
At present, construction companies make industrious use of online websites such as WordPress, which is stress-free and less demanding. All that is needed in creating their construction website does not require coding of any sort. How more perfect can this get!
In addition, in places where coding is required, there are a lot of guides on the internet that can help with that. However, I doubt it if a construction company would have any hassle navigating through the coding requirements.
You might be wondering how good this can get. Well, using a captivating, classic, modern, elegant, and comfortable Builders WordPress theme that suits the company's theme wholly may be a perfect implementation.
On this note, join us as we explore varieties of WordPress themes for Construction Companies.
What Should I Look Out For In A WordPress Theme For Builders?
You might be new to the whole theme selecting and building, but selecting the right theme for your website is extremely important! This can not even be overstretched. You have just a few seconds to impress your website visitor and make them stay.
Choosing a builder's website template is equivalent to providing an overview of your site through the first page. Additionally, the first impression you provide these visitors from the first page they see on your site is very important since it is very likely that your website will be rated based on it.
The following are list of things to consider while choosing a WordPress theme for your builder's website
1. Responsive Theme
The most significant element to consider is whether or not the theme is consistent with your construction. This includes both speed and efficiency. The data regarding this aspect of WordPress themes are typically presented. If not, a fast online search might be quite beneficial.
2. Theme Templates
Templates are sample copies or models that are utilized to provide a descriptive study of how the genuine model will look after it is constructed. Some websites provide pre-built templates for themes that may be purchased. To save time, you should select an already existing template. However, this is optional; if you still want to make a few changes to the previously created templates, you may do so. After all, your website's theme should represent the goals of your firm.
3. Page Builder/Theme Builder
You can choose a theme that allows you to construct a customized feature for a single page (Page builder) or one that fixes the model on a few or all of the website's sites (Theme builder).
4. User-Friendly
It is ideal if you seek a builder's theme that allows you to use it without difficulty. Therefore, focus on the simple models rather than the complex ones. You will also want a theme that is easily installed and configured on your website.
5. Customer Support
Especially, for users that are not familiar WordPress themes process, ensure that the theme you are picking has a 24-hour customer support to help you in selecting the right theme, and also in integrating it on your WordPress site. Alternatively, you can use the provision of blogs that are provided on the internet. However, the theme site should be ready to help you. Check out why you need an optimized construction WordPress theme here.
Important Terms Related to Builders WordPress Themes
In this guide, we are going to provide a detailed definition of a few words you would most definitely come across when working on builders WordPress themes. However, to make it easier for you, you can always check this blog for their definitions.
Themes: This refers to the overall arrangement of your website. It covers the color, style, fonts, layouts, etc.
Child Themes: A child theme is the reproduction of another theme known as the 'parent theme.' You may install a child theme by copying the parent theme's style, function, and design.
A child theme can be changed without compromising the parent theme's code and design. This is a good theme formation because, unlike the parent theme, the theme update does not remove the modified features.
Plugins: This refers to additional features on WordPress. These additional features are created to aid the user's experience on their website.
Examples are Yoast SEO( checks the readability of words and extent of SEO on the site), WPForms ( creates all kinds of contact forms on the website for the visitors. This is an excellent plugin for construction companies), WooCommerce ( aids product merchandise), etc.
Header & Footer: This refers to the content located at the beginning of the web page(header), and the end of the page (footer).
Shortcodes: These are embedded codes that are formatted in a way that the site would read the code and function appropriately to what is embedded in the code. They are usually embedded in a bracket form "[ ]".
Archive: This is a template page that lists out all the content on your websites. It is in essence, an accumulation of data on the website but sub-divided by categories such as blog post type, tags, products, etc.
List of the Best Construction Themes For WordPress Theme Building
The Construction Choice is a versatile, artistic, inventive, highly-functional, speedy, high-powered, and wholly customizable theme created by a team of experts to masterfully provide for builder's WordPress themes.
Have you seen a theme that has the full package? The construction choice is carefully created and brilliantly expanded to provide for any inadequacies that might arise when using a technical theme like construction themes.
One of the best parts about this theme is that it is extremely user-friendly. You can simply integrate it into your WordPress website by selecting one out of over twenty-five pre-installed builder's website templates, edit it if required, and get started with it.
Features of Construction Choice Multipurpose WordPress Theme
Demo Option: Get started quickly by using the demo option (one-click). It is swift and efficient.
Highly Customisable: The pre-installed templates were created for you to get started quickly, however, when required, edits can be made. For example, this construction theme permits the customization of widgets, panels, layouts, blocks, etc.
Consistent Updates: After purchasing this theme, there would be recurring updates to upgrade the available features, or add new features, or fix any issue. However, these updates come at no extra cost throughout the period the user uses it.
Slider: Show off your product or service with an advanced slider. This slider lets users use varieties of product promotions such as pictures, Gif, videos, etc. This gives room for a reliable and user-friendly site.
Service Layout: This layout lets users include a sectional structure of their service or anything. This service layout is very beautiful and alluring to the eye. With this section, you would be sure to capture so many visitors' attention.
Portfolio: A construction theme can dwell better with a productive list of past work or services displayed in the portfolio area. Customers can easily identify this side and check out the past services of the company.
About Us: Inclusive of the list of features is the 'about us' part which showcases the purpose, functionality, and goal of the company. It also gives an overview of the company.
Plugin Compatibility: You can assuredly use this theme with other WordPress plugins such as WooCommerce. Extend the functionality of your website with plugins and make customers judge your website positively from the themes.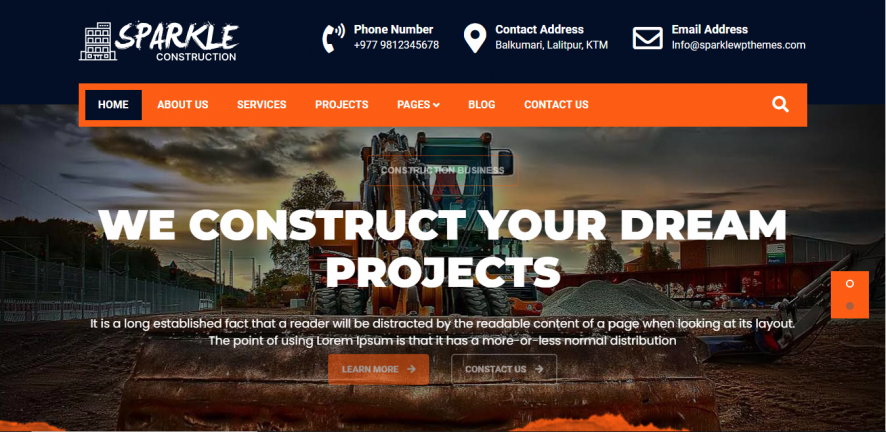 This is a premium multipurpose WordPress theme that is highly defined, scrupulous, universal, high-end, extremely powerful with high performance, and speedy.
This WordPress theme for builders has a detailed documentation guide to help you with the installation process of the theme, its main use, how to completely use the theme to your advantage, and a host of others.
This theme is produced to cater for all business types such as Barbershop, Boxing, Data Center, Construction Company, Portfolio, Construction Light, Music Transport, Fashion, Restaurant, Photography, and so much more.
These pre-designed templates are completely customizable to your taste and satisfaction.
Features of Construction Pro Multipurpose WordPress Theme
You can get started with the demo version of the WordPress theme for builders.
Highlight the best price for your customers with the advanced price section.
Give constructive information about your team and previous successful projects with the "Team & Testimonial Layout".
An "About Us" section on your webpage would let your site visitor understand you more clearly. This in turn creates a credible image for the public.
Highly- Customized counter section.
Fully responsive and User-friendly Theme.
The theme can be translated into numerous languages,
The Builders WordPress theme can be used in numerous browsers.
It makes provision for child themes.
NOTE: Construction Pro Multipurpose WordPress Theme and Construction Choice Multipurpose WordPress Theme are similar. Therefore, the features found in the former can also be found in the latter.
Are you a bit under a budget? Well, there is a way to enjoy the compulsive combination of Construction Pro Multipurpose WordPress Theme and Construction Choice Multipurpose WordPress Theme.
Construction Light is a WordPress theme for builders that can be obtained at no extra charge. You can download this theme for free on the website.
However, you would get to download the theme for free, but with limited features. The features seen in Construction Pro Multipurpose WordPress Theme and Construction Choice Multipurpose WordPress Theme are restricted to a slight extent.
To understand this more vividly, study the table below for more insights on the differences, and then make your decision on which is preferable to you.
| | | |
| --- | --- | --- |
| | CONSTRUCTION LIGHT – FREE CONSTRUCTION WORDPRESS THEME | CONSTRUCTION- PRO MULTIPURPOSE WORDPRESS THEME |
| ADVANCED BLOG LAYOUT SETTINGS | Basic | Advanced |
| ADVANCED MULTIPLE COLOR SCHEME | Basic | Advanced |
| ADVANCED SLIDER OPTION | None | Yes |
| BREADCRUMB LAYOUT AND OPTION | Basic | Advanced |
| BUILT-IN ONE-CLICK DEMO CONTENT IMPORTER | Yes | Yes |
| CROSS BROWSER COMPATIBLE | Yes | Yes |
| CUSTOM WIDGETS | Over eight plus | Over twenty-five plus |
| CUSTOMER SUPPORT | Yes | Yes |
| FOOTER COPYRIGHT EDITOR | None | Yes |
| FULLY OPTIMIZED FOR SEO | Yes | Yes |
| GDPR COMPLIANCE & COOKIES CONSENT | None | Yes |
| HEADER LAYOUTS | One | Five Layouts Styles |
| HOMEPAGE SECTION | Only Eight Sections | Over twelve sections |
| MAINTENANCE MODE | None | Yes |
| MULTILINGUAL & TRANSLATION READY | Yes | Yes |
| PRE-LOADER OPTION | None | Yes |
| RESPONSIVE | Yes | Yes |
| RTL SUPPORT | Yes | Yes |
| SERVICES SECTION | Basic | Advanced |
| SHAPE DIVIDER | None | Yes |
| SHOP/PRODUCT PAGE LAYOUT & OPTIONS | Basic | Advanced |
| SIDEBAR LAYOUT OPTIONS | Basic | Advanced |
| SINGLE / MULTIPLE OFFER (HOT) SALE OPTIONS | None | Yes |
| SINGLE PRODUCT PAGE LAYOUT & OPTIONS | Basic | Advanced |
| VERTICAL MENU OPTION | Yes | Yes |
| WORDPRESS 4.4 – 5.9 | Yes | Yes |
| | | |
Table Source: Sparkles Themes
Avada is an in-demand WordPress theme that includes a slew of useful functionality. This theme was created for novices, marketers, and experts who want to fully customize their sites.
You may utilize Avada to construct your site without any coding expertise or experience.
Several aspects of this theme are as follows:
It comprises of eighty-six (86) theme models or thereabout, plus the builder's website model.
The total design components are more than 120, and still extremely modifiable.
It is programmed to be quick.
It is programmed to be simple to use.
Overall unique contents that promote the theme's functions.
Integration with WooCommerce.
However, this theme falls short of possessing a specific builder's WordPress theme for users. Alternatively, you can pick out the existing models and modify it to your desire.

Astra is well-known globally and often utilized by users. Astra has received varieties of ratings and reviews on both WordPress and Trustpilot. Astra is well-known for being extensively adaptable and well-structured.
The following are some of its key features:
Access to pre-designed website templates.
It's extremely configurable, and it doesn't require any code.
Customizable Page Builder
Themes that are both effective and fast.
WooCommerce, Beaver Builder, Elementor, Learn Dash, Toolset, and Yoast SEO can be easily integrated.
The Real Factory Builders WordPress theme is designed primarily for building projects. As a result, it consists of a wide range of tools, styles, and functionalities. The theme, nevertheless, is only well-matched with a set of WordPress software versions, including 5.9.x, 5.8.x, 5.7.x, and 5.6.x.
Ensure your WordPress website is up to date and compatible with this WordPress theme. Additionally, it can be purchased at a fee on theme forest but you would obtain the value of your money.
Real Factory definitely should be among our catalog. The theme is approved by Envato.
Some of its important features are;
Well-matched with IE11, Firefox, Safari, Chrome, Edge, etc.
WooCommerce, Facebook, and WPML can be completely incorporated.
Provision of fully documented guidelines for users.
Known for its effectiveness as a WordPress theme for builders.
19 pre-designed Header Styles.
Automatic Demo Importer.
Live Customizer
Page builder, etc.
This builder's WordPress theme is specifically created to cater for most inadequacy of other construction themes.
With Construction Landing Page Pro, you would get highly customizable features. As well as other amazing features built to assist construction companies to heighten their marketability and reach the right audience.
Other features are;
Users can select the preferable plan that suits their needs and budget. The plan differs in the license; support; installation and setup service. In other words, some plans have none of these features, some have one of it, and one that has all of it.
Multilingual Support
Cross-browser Support
Customized CSS
Multiple browser compatibility
Seven header layouts
SEO Website content optimization
Google Font Integration
About page layout
Fifteen days refund policy
Social media Integration, and so much more.
This is a construction WordPress theme for builders. Wilmer is among the fastest-rising themes and additionally supported by ThemeForest.
It consists of professional tools and impressive features that would sure to spur your target audience. This WordPress theme is ideal for construction companies, factories, development industries, and other technical industries.
Some of its important features are;
Full integration with important WordPress plugins such as Contact Form 7, Elementor, Slider Revolution, WooCommerce, and WPBakery.
Over a thousand font styles
SEO friendly & User Friendly
Customizable Features
Implementations of Shortcodes for the themes
Customizable Header and Footer Content
Customizable Layouts, etc.
BuildPress is a WordPress theme that may be used for both construction and landscaping. It's an excellent theme for any building firm.
The theme lets the production of a simple and user-friendly website that allows companies to focus on their services.
Some of its important features are;
Compatible with Visual Composer, WooCommerce, Contact Form 7, Custom Sidebars, Jetpack, etc.
Support from major internet browsers.
Supports any WordPress version up to Version 5.3x
Provision for a well-documented guide for users.
Responsive designs and layouts
Optimized page builder.
Automatic demo installer.
Customizable layouts
Constructive Themes, etc.
This is a construction theme ideally suitable for construction companies, architectural companies, and other technical business companies.
The theme is sorted by multiple features that let you highlight your services, purpose, what you can offer, contact info, blogs, etc. This is executed in an alluring manner.
The construction header allows users to choose between numerous styles and content that would definitely allow your website to be singled out. Some of its other important features are;
Pre-designed construction headers
Pre-designed construction homepages.
Full integration with WooCommerce, Elemnetor, Visual Composer, WPBakery, WPML, etc.
Compatible with major internet browsers.
Responsive Layouts and Designs
Documented guide
Fast and automatic demo installer
Swift and automatic theme update
Over six hundred google fonts
Multi-lingual Support
Slider Revolution (It comes at a fee.), and so much more.
Which construction theme would be perfect for your WordPress site?
There are many WordPress themes available for builders, and the majority of these themes will function with your WordPress site. However, we're looking for something just right for your website.
Most of these WordPress themes have identical characteristics, making it difficult to compare them. Regardless, in our search for the ideal theme, we recommend that you first;
Understand what you are in search of among these themes. You should highlight these features appropriately.
Next, go over our top ten construction builders' WordPress themes. While doing this, try out the demo version of each theme.
The demo version would assist you to get more insights into the theme. You can use the opportunity to go over any builder's website templates if available for that WordPress theme.
If you can implement this method for all ten themes, then make your choice. However, if you can not go over all ten, we recommend that you set apart the top five themes of this blog.
Read up on these top five themes and check out their demo version.
Make your choice.
With these steps, you would find the perfect and most suitable Builders WordPress theme for your website.
Let us know how much this guide has helped you. We would love to know what is your opinion about our list of the best construction themes.
Final Words
Our top list is synchronized according to how much significance or role it plays for users. Therefore, if you are unsure of what to pick out, we advise you to start from the beginning, down to the end.

We hope this blog helps you make the right decision in selecting the best builders WordPress theme for your website.
Also, leave a comment if you require clarification on any subject.